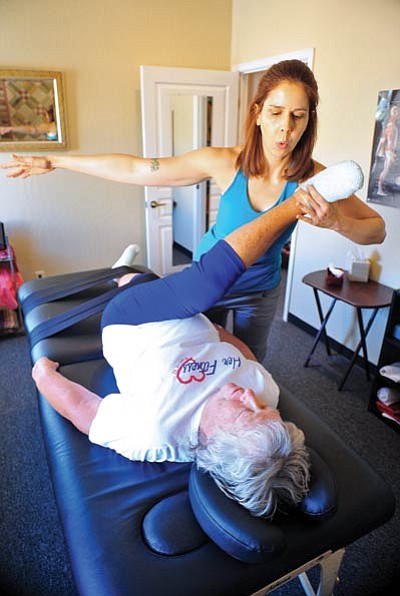 Originally Published: September 24, 2013 6 a.m.
PRESCOTT - Pilates, an exercise that stresses breathing, posture and strength training, is growing in popularity decades after its founder, Joe Pilates, died in 1967.
Holly Thompson, a former audio engineer in the music industry who moved to Prescott from San Francisco in 2007, has capitalized on the trend by opening His n Hers Pilates here.
Thompson, 40, said she decided to open her studio after working as a certified personal trainer in Prescott for three years. As a personal trainer, she said she became acquainted with people who have a variety of surgeries, including joint and hip replacements.
"Once I started doing the Pilates, I could see how I could help these people," Thompson said.
Thompson subsequently obtained a variety of certifications, and has worked with her mentor, Pilates studio owner Virginia Nicholas of Tempe, every week since 2011.
She applies what she learned by conducting lessons, mostly one-on-one, in her 1,000-square-foot studio. Clients take off their shoes after entering the studio.
Her clients use equipment such as Wunda chairs and universal reformers. Wunda chairs have a moving pedal, and they help exercisers with balance and strength training, Thompson said.
Thompson explained the reformers, which are in a separate room, are "like a bed on a moving platform."
While her business has "His" in its title, Thompson said the majority of her clients are women. Clients range in age from 31 to 85 but most of them are in their 70s.
Two Prescott women of a certain age have been taking Pilates lessons from Thompson for at least a year, and said the exercises make them feel better.
"You feel like your whole body has been exercising," Barbara Van Ummersen said.
May Smith said Pilates has given her "another life. I have been reborn."
Smith said Pilates makes her feel more energetic, and attends sessions with Thompson three times a week.
Thompson said she enjoys the fact that her clients tell her they are feeling "significantly less pain."
She recommends three sessions a week, while acknowledging most of her clients visit twice a week.
"And they stick with it," Thompson said.
Thompson said her big plans are to continue what she is doing.
"Pilates just works, and people are getting results," she said.
She works by appointment at her studio at 2074-C Willow Creek Road. For more information, log onto www.hisnherspilates.com, or call Thompson at 273-1353.
Have you opened a new business that is not home-based? Email khedler@prescottaz.com.
Follow reporter Ken Hedler on Twitter: @KenHedlines