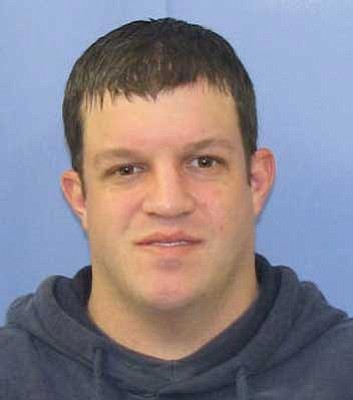 Originally Published: September 21, 2013 6 a.m.
PRESCOTT - A man accused of beating a Seligman family with a shovel before stealing their pickup and dogs may accept a plea agreement that would turn a potential 250-year sentence into 21 years or less.
Eric Tuttle, 40, was staying on the victims' property in the Bridge Canyon Estates in November 2012, but when the family asked him to leave he turned violent, said YCSO spokesman Dwight D'Evelyn.
He assaulted a 54-year-old woman in a car, keeping her father from helping her by locking him out, D'Evelyn said.
When Tuttle got out of the car, he attacked the man with a shovel, then turned on the woman with the shovel as well, D'Evelyn said.
Tuttle then moved the father and daughter, along with her 77-year-old mother, into a travel trailer, threatened to kill them and ordered them to sit together, D'Evelyn said. He had the daughter bind her parents' hands with duct tape, and then wrapped her hands.
He left in the family's Dodge Ram pickup, taking their three dogs with him.
A tip led deputies from the Ohio County, W.Va., Sheriff's Office to a department store, where the deputies took Tuttle by surprise and arrested him, D'Evelyn said.
Friday in court, his attorney, Linda K. Moore, said he didn't have a decision as to whether he would accept the plea or go to trial.
Tuttle faces a 12-count indictment, and Superior Court Judge Celé Hancock said, because he was on parole for offenses committed in Pennsylvania at the time of the alleged attack, he could be sentenced to 250 years in prison if a jury found him guilty of all charges.
Deputy County Attorney Steve Young agreed to give him more time to consider the plea as offered - which would come with a sentencing range of 10.5 to 21 years - but noted that he did "not have an open mind" about further negotiations.
Hancock set a new court date for Oct. 28.
Follow the reporter on Twitter @AZNewsguy