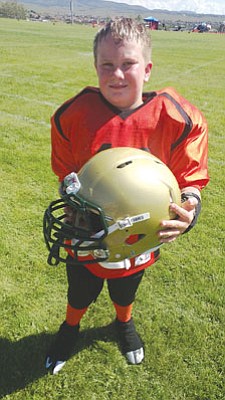 Originally Published: September 19, 2013 6:02 a.m.
To play or not to play. That is the question parents across the country struggle with when their children ask permission to join a tackle football league.
It's not an easy decision.
On Monday in Buffalo, N.Y., 16-year-old Damon Janes died three days after a helmet-to-helmet collision in a high school football game. He walked off the field on his own, collapsed, and lost consciousness. The official cause of his death has yet to be determined.
Public awareness of the potential long-term effects of football head injuries soared last month when the National Football League paid $765 million to settle lawsuits with 4,500 retired players with various ailments who accused the NFL of concealing a link between traumatic brain injury and concussions from playing football.
What's a parent to do?
How do the important values kids may learn from playing football - "perseverance, self-denial, hard work, sacrifice, dedication, and respect for authority" as legendary Green Bay Packers coach Vince Lombardi described them - stack up against possible health risks from smashing helmets?
If children don't learn the correct way to play football at a young age, will that make them more vulnerable to potentially greater harm if they start playing later when their bodies have developed?
Prescott Valley's Karen Black wrestled with the pros and cons when her 9-year-old son Justus wanted to play. Her comfort level began to wane last year when she heard a warning from an unlikely source - Kurt Warner, who led the Arizona Cardinals to the Super Bowl in the 2008 season.
Warner said he would prefer that his sons not play football and the idea of them of doing so "scares me." But, he added, "...you can't make the choice for them."
Two Hall of Fame quarterbacks - Terry Bradshaw and Troy Aikman - also have taken public stances on the issue. Bradshaw, who suffered six major concussions that knocked him out during his illustrious career with the Pittsburgh Steelers, told late night talk show host Jay Leno, "If I had a son today...I would not let him play football." But when asked if he would do it all again, Bradshaw responded, "Absolutely."
Aikman, who reportedly had at least 10 concussions in the 12 years he played for the Dallas Cowboys, said, "If [I had a son], I wouldn't tell him he couldn't play football. If he wanted to, I would say 'OK, great.' But I don't know if I would be encouraging him to play."
Tom Brady, Sr., father of three-time Super Bowl winning quarterback Tom Brady, held his son out of football until he was 14.
"This head thing is frightening for little kids," he told USA Today. "I think Kurt Warner is 100 percent correct. He's there to protect his children...these other people who are weighing in are not addressing the issue of whether it's safe or not for kids."
Warner's comments came shortly before doctors concluded that former NFL star Junior Seau, who committed suicide at age 43 in May 2012, suffered from a brain disorder called CTE (chronic traumatic encephalopathy) caused by all the hits to the helmet he absorbed in more than 30 years of playing football.
Karen Black was worried.
After Warner's remarks, she entered "safety helmet" into her computer's search engine and up popped the Revolution ® IQ HITS Helmet, manufactured by Riddell (the Official Helmet of the NFL).
Riddell's description of the helmet seemed to fit what she was looking for. It "monitors and records every significant incidence of head impact sustained during games and practices. On-board electronics measure and record the location, magnitude, duration, and direction of head impacts and impact accumulations, allowing players [and parents, trainers, doctors, and coaches] to upload and evaluate each occurrence on their home computers."
Some colleges - such as Virginia Tech, Dartmouth, Brown, and the universities of Oklahoma, Minnesota, and North Carolina - have already purchased similar helmets equipped with sensors that include alert monitors which signal to trainers on the sideline the uniform number of the player who has sustained a head impact that exceeds his predetermined threshold. The player is immediately examined to determine if he has a concussion.
Arizona State's football team is wearing the helmets with sensors for the first time this season as the first university research partner in a new study designed to improve identification and treatment of concussions in athletes.
The Revolution ® IQ HITS Helmet became available to the public for the first time in time for the 2013 football season. Karen was sold. This could alleviate her concerns that Justus could suffer a serious head injury from football that goes undetected.
Justus now wears a bright orange No. 44 jersey with his name on the back as a linebacker and guard for the Titans in the Prescott Valley Youth Football and Cheer Association. His gold Revolution ® IQ HITS Helmet stands out among the black reconditioned ones some of his teammates wear. It's even more different on the inside with six sensors called accelerometers built into the lining that measure the movement of Justus's head, not the helmet. They are the same kind of sensors used in automobile airbags. It weighs a little more than a regular helmet. Justus likes it.
"It's more comfortable [than a normal helmet]," says Justus, who is a fourth grade student at Abia Judd Elementary School in Prescott. "I like it because it makes my mom feel good, and she lets me play."
Karen admits that the helmet is "as much for me as for Justus. It helps take fear out of it [child playing football] for a parent." According to Riddell spokesperson Erin Griffin, Justus could very well be the only youth football player in America wearing the Revolution ® IQ HITS Helmet.
One of the reasons is cost. Karen spent $1,500 for the helmet and RedZone software system.
"I'm not a rich woman. I'm a single mom," says Karen, who manages a neurosurgical office at the West Campus of Yavapai Regional Medical Center. "Once I heard about the helmet, I saved all year. It's worth it. You can heal a broken arm, but what about a bruised brain?"
The helmet does not prevent concussions or diagnose them. But it will provide her a real-time alert in the form of a loud beep from her laptop in the stands if Justus absorbs a serious blow to the head that is above his particular threshold, which Riddell set by his age and size (4-feet-11 inches, 98 pounds). This warning sends the important message that he should not return to the field or practice until he has been examined more closely for a possible concussion.
If an impact with Justus's helmet sets off the alarm on his mother's computer and he wobbles off the field unable to remember the Titans let alone the plays, who would examine him? Many youth football leagues do not have certified trainers or doctors on the sideline for games. In the PVYFCA, parents with training in medicine both from Prescott Valley and visiting teams from Flagstaff have volunteered to be available for games, according to league president Esmeralda Mata.
The PVYFCA is part of the national organization American Youth Football, which requires its coaches to complete the Heads Up Online Concussion Training created by the Center for Disease Control and Prevention. A copy of the certificate of completion and successful scoring on the CDC Concussion test must be kept in the team book.
The Titans are lucky. Their coach Cody Rose, a captain in the Chino Valley Fire Department, is a paramedic. He says with all of the recent emphasis on head injuries, it raises the importance of coaches teaching the proper techniques of tackling, running and blocking. "We teach them not to lower their heads," he says.
After Justus's first game, Karen downloaded the information stored in the sensors of Justus's helmet. "He took 35 hits [to the helmet] in his first game, but all were below his threshold," said Karen, "This does provide an extra sense of comfort that we haven't missed something."
It's better to be safe now than sorry later.