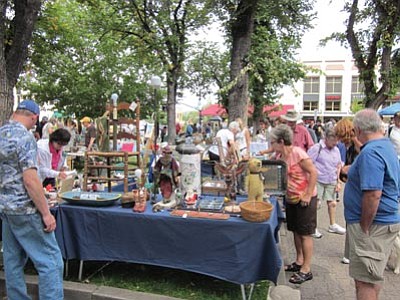 Originally Published: September 18, 2013 6 a.m.
"Antiques on the Square" is from 9 a.m. to 5 p.m. Sunday, Sept. 22, on the courthouse plaza in downtown Prescott. A variety of antiques and collectibles will be offered for sale.
The event, sponsored by the Thumb Butte Questers, has taken place twice annually for the 11 years. Spring shows are the first Sunday in June.
The Thumb Butte Questers, a nonprofit organization, donates 100 percent of its profits from the shows to local public historic restoration and preservations projects.
The Thumb Butte Questers, one of three local clubs, is part of an international organization founded in 1950. All Quester clubs have the purpose of working to preserve history, whether in the form of buildings, objects or the written word. The clubs have monthly meetings with programs covering a wide range of topics from local history to area of antique collecting.
To learn more about the Questers, call Ed after 6 p.m. at 776-7220.