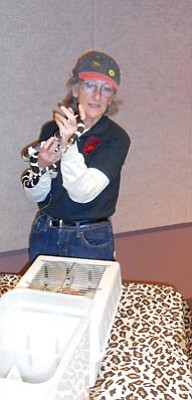 Originally Published: October 24, 2013 6 a.m.
The Highlands Center for Natural History near Prescott is inviting everyone to put some "howl" into Halloween this year by attending the center's Halloween Happening Friday.
The event runs from 4:30 to 7:30 p.m.
In this unique Halloween celebration, families are invited to explore the natural wonder of the Highlands Center at night in a safe and exciting environment.
Guests can "take a walk on the wild side" on the Howl-o-ween Trail, and meet wildlife from the Heritage Park Zoo in their nighttime habitat.
Children and adults are encouraged to wear costumes. They'll be treated to Halloween stories by the fire, s'mores, hot cocoa, and fun face painting. Pumpkins will be on hand for all types of decorating.
"The Halloween Happening is designed to be educational and fun, not scary, so all ages are welcome," HCNH Executive Director Dave Irvine said.
Explorers are encouraged to bring flashlights and headlamps, as lighting is limited in some places. It may be chilly, so be sure to dress warmly to experience all the Halloween fun the forest has to offer. Admission is $2 for children 12 and under, and $5 for adults.
The non-profit Highlands Center is located on the Prescott National Forest along Walker Road near Lynx Lake. For directions and more information, call 776-9550 or go online to highlandscenter.org.