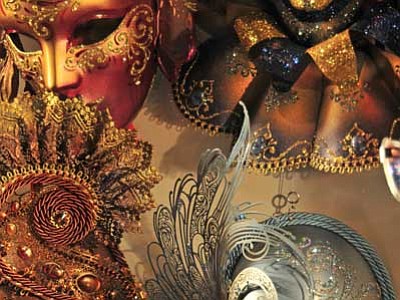 Originally Published: October 16, 2013 8:35 a.m.
This Week
Saturday, Oct. 19
There will be a costume sale from 7 to 10 a.m. at the Oct. 19 Made-To-Order-Breakfast at the Community Center. This is the regular third Saturday breakfast at the Cordes Lakes Community Center, 16357 S. Cordes Lakes Dr. There will be many Halloween costumes available at very reasonable prices, so come for breakfast and get a costume for your little ones.
Oct. 19 is the Costume Dance at the Community Center, 16357 S. Cordes Lakes Dr. Wells Fargo Band will play from 6-10 p.m. This is a BYOB and you must be over 21. Cost is $15 per couple or $8 for single.
Cordes Lakes
Oct. 31 is Trunk or Treat at the Baptist Church at 20172 E. Pinto Drive. This is a combined effort of the church and the Community Center. The church also will be having its Fall Festival.
Decorate your car and dress yourself in costume (optional) and drive your vehicle (with the trunk full of goodies for the neighborhood children) to the church parking lot.
Children's games will be included at this event.
If you would like to be on the Cordes Lakes Community Association Board, contact LaDoris Taylor at 928-632-9357 or Pat Williamson at 928-632-8965 to fill out the registration form. Must be completed prior to the Nov. 7 board meeting.
Dinner at the Cordes Kitchen will be from 4--7 p.m. on Saturday, Nov. 2. The Community Center, 16357 S Cordes Lakes Dr., will be serving chicken fajitas with beans and rice for $6, drinks extra.
December 7 is the Cordes Lakes Annual Bazaar at the Community Center, 16357 S Cordes Lakes Dr. It is a great time to get that one-of-a-kind gift for that special person for Christmas, as well as shopping for others on your list.
Breakfast cooked to order is available from 7-10 a.m. the third Saturday of each month. The menu features the "full plate" for only $5. There are eight separate choices, as well as a la carte items.
Cordes Lakes Brush Yard is open again from 7 a.m. to noon on the third Saturday of the month.
Storytime at the Cordes Lakes Public Library is at 3 p.m. once per month on the first Friday of the month. Miss Tina will read a story geared to preschoolers.
The weekly Jam Session continues on Wednesday. It is still at Bill Teahon's house, 20273 East Quail Run, starting at 1:30 p.m. Bring your instrument and join in the fun. Contact Bill at 928-772-6044 for more information.
AL Anon open meetings are on Monday, at 9:30 a.m. at the Cordes Lakes Community Center. Contact Len at 928-632-9064.
Big Bug Gem & Mineral Club meets at 7 p.m. the 3rd Tuesday of the month at the Community Center. Contact Art Frame 928-713-5492 for information. The club is on vacation now until September.
Love Ministry is located at 14720 S. Stagecoach Trail in Cordes Junction in the mobile at the Extra Self Storage.
Hours are 9 a.m.-1 p.m the 3rd and 4th weekends of the month. Call Carol Peck at 928- 899-5050.
The American Legion Post 122 meetings are at 2 p.m. on the third Tuesday of the month at the Cordes Lakes Community Center.
Commander Johnson states he will be resigning as commander in May, so attend meetings to determine who you want to vote for to replace him in this capacity.
Mayer
On Sunday, Nov. 3, from noon to 1:30 p.m. Mayer Meals on Wheels will have a Cajun Swamp Romp.  It is a combination of Duck Dynasty & Swamp People for a Louisanna Swamp ambience! Come dress up to get in the spirit. MAMOW will be serving soup favorites like Crocodile Jambalaya, Batwing Surprise, Slime Soup, Gator Eyes, Swamp Reeds, Spider Eggs, along with other devilish delectable treats. 
Mayer Community Church, 10001 S Fifth St, Mayer, offers several weekly studies and events. The public is welcome free of charge.
Men's Bible Study - 8-9:30 a.m. Tuesdays
Jr. and Sr. High Youth group. Enjoy fun times with friends and learn something that might change your life! 7-8:30 p.m. Tuesdays
Women's Bible Study. Join us as we begin a new study in the book of Acts starting Sept. 18. 9:15 - 10:45 a.m. Wednesdays
Moms in Prayer. Christian Moms, Grandmothers, Aunts, neighbors - any woman interested in praying for children and schools, whether public, private, or homeschool, from preschool through college. Pray for your own children as well, from 2-3 p.m. on Wednesdays.
For more information call 928-632-9533.
The Springs Church offers Project Friday throughout the school year from 10 a.m. to 1 p.m. on the first and third Friday of each month. Project Friday is for children kindergarten - sixth grade. It is a safe place for children to do a variety of projects together. Make creative things, build construction (KNEX), learn how to bake yummy snacks and do fun indoor and outdoor activities together. Lunch is provided and parents and children are invited to come participate or observe anytime.
The next Project Friday will take place on Sept. 20 at the Springs Church Ministry Center, 10051 S. Second Street, Mayer, directly behind the Mayer Post Office on 2nd Street.
For more information call or text Jill Metcalf at 928-925- 3067.
Big Bug Charity Quilters meets from 9:30 a.m. to 2:30 p.m. every Monday at the Mayer Activity Center, 10051 Miami St, Mayer.
More like this story