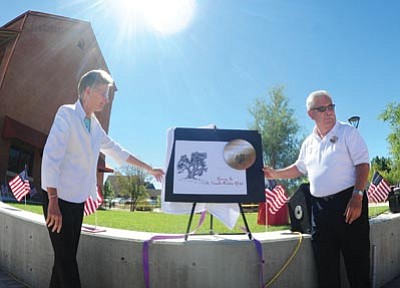 Originally Published: October 1, 2013 6:02 a.m.
PRESCOTT - Carmen Whitted Alvey was a fitting speaker Monday as Prescott College dedicated a newly planted alligator juniper on its campus to the Granite Mountain Hotshots.
The sister of fallen hotshot Clayton Whitted, Carmen is a former Prescott College employee who loved to take family members to see the world-record-sized alligator juniper growing on Granite Mountain while she lived in Prescott.
The Granite Mountain Hotshots saved that ancient alligator juniper from the Doce wildfire in late June by digging a fire line around it and clearing out brush underneath it. The fire later burned right up to the line.
"Hey, heard you saved my tree, thanks," Carmen texted her brother at the time.
"Saved it," he wrote back, sending along a photo of the hotshots playing in the 14-foot-diameter tree. It was one of the last texts she received from him. About a week later on June 30, he died alongside 18 of his fellow Granite Mountain Hotshots battling the Yarnell Hill wildfire 30 miles to the south.
Prescott Fire Chief Dan Fraijo also spoke at Monday's dedication, thanking Prescott College for opening up its new dorms for hotshot families when hotels were almost impossible to find during the hotshots memorial services because of Prescott Frontier Days festivities.
More than 120 hotshot family members and firefighter honor guards stayed at the townhouses, and the college café also fed the memorial's incident command team, college President Kristin Woolever said.
Clayton's uncle and cousins were among those who stayed in the dorms.
"It was just tremendous to have everybody in one place," Carmen recalled. "The peacefulness of the campus contributed greatly to my peace of mind."
Clayton's father as well as the parents of Granite Mountain Hotshots Superintendent Eric Marsh attended the ceremony for the college's new juniper, too.
"He spent his life saving trees like that," Eric's father John said.
"So it's only fitting they would have this tree," his mother Jane added. The ceremony took place just one day after Eric would have turned 44, they noted, and two days after fellow hotshot Jesse Steed would have turned 37.
Eric talked to The Daily Courier back in June about saving the special tree.
The hotshots' work in the backcountry on fires often goes unseen, Eric noted. So it was great to know they saved such a prominent tree that people cared about. And it was great to know they saved a tree on their namesake mountain.
"It feels right, you know?" he said.
As a plaque for the new Prescott College juniper was unveiled, former Prescott College academic VP Layne Longfellow read a letter about the Granite Mountain alligator juniper from Doug Hulmes, PC professor of Environmental Studies, since Hulmes was in Norway Monday. Hulmes has made many treks to the stately tree over the last four decades.
Hulmes' letter recalled how Prescott firefighter Kevin Kieth told him that the hotshots climbed high into the juniper's branches to put out flaming embers with water from their water bottles.
The Swedish word for a sacred or significant tree, Naturminneupptecknare, translates as "recorder of nature's memory," Hulmes noted.
"If a nearly 2,000-year-old alligator juniper could share all that has occurred in its surroundings, surely, one of the most requested would be the heroic story of the valiant men in yellow uniforms suddenly appearing out of the thick chaparral and saving the ancient tree from a fire started by the careless ones," Hulmes wrote.
"The great tree stands amidst blackened skeletons in a charred landscape," Hulmes added. "May the tree continue to stand as a recorder of Nature's memory and a living memorial for those who cared."
And may the Prescott College juniper live for 1,000 years too, Woolever said.
Follow Joanna Dodder on Twitter: @joannadodder.
More like this story