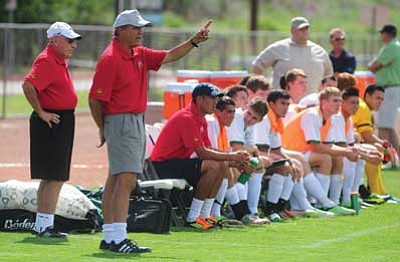 Originally Published: November 18, 2013 6:02 a.m.
PRESCOTT - Hugh Bell has been by Yavapai College soccer coach Mike Pantalione's side almost since the beginning of the program's 25-year tenure here, assisting with recruiting and forming half of the brain trust that's guided the program to six of its seven national championships since 1990.
As the Roughriders embark on their quest for an eighth Division 1 junior college title today at the NJCAA Tournament in Tyler, Texas, the 70-year-old Bell's steady presence for Yavapai can't be overstated.
Hired as the team's associate coach in August 1992, Bell came to Yavapai from Phoenix, where he established himself as one of the finest high school boys' soccer coaches in the state.
When Pantalione, 60, arrived in Arizona in 1988, he was in his mid-30s and determined to forge Yavapai into a consistent winner.
Primarily, that meant developing a solid recruiting base.
But his contacts were limited.
For the Roughriders' first three seasons, from 1989-91, Pantalione coached by himself - and it was a grueling endeavor.
He needed a sidekick.
So Pantalione pursued a lead assistant coach he could rely on. Someone who wouldn't be a "yes man." Someone who would share the responsibilities for finding skilled players and molding them into athletes that possessed the traits necessary to win championships.
The name that kept popping up again and again for Pantalione during his search was none other than Bell. He possessed valuable insight into the best prep and club players from the Phoenix area, a market Yavapai needed to become successful.
Pantalione, who on Nov. 9 became the all-time winningest men's soccer coach in junior college history with 535 victories, grew up in Philadelphia.
He lived 22 miles away from Mercer County Community College in New Jersey, which would blossom into one of the most successful JUCO programs.
Mercer designed the blueprint for winning at that level, and Pantalione noticed it from afar years ago.
He wanted to build a winner in the Southwest that rivaled Mercer in the East. Pantalione had the requisite knowledge of the game, but he leaned on Bell for his expertise and advice about player prospects.
"Hugh was very direct in his thoughts and comments - he didn't oversell any players," Pantalione said in reflection from practice this past week. "When I went out and watched these players myself, I came to the conclusion that Hugh knew what he was talking about."
***
Bell has a rich history in soccer.
A native of Belfast, Northern Ireland, he was raised around the game. Bell became enamored with the Glen Toran Football Club, his hometown team.
Bell attended Glen Toran's matches and played soccer as a youngster. He wanted to turn pro so badly. But once Bell realized that he wasn't good enough, he accepted his fate and got an apprenticeship.
"My father supported me. When I didn't get signed, he said, 'Well, son, the sun will rise tomorrow morning and it's going to be a beautiful day,'" Bell recalled. "He accepted it, and he never said, 'You weren't good enough.'"
In 1965, Bell immigrated to upstate New York. He played for a German-American semi-pro traveling team called Germania Hall of the Eastern League.
A Scot named Jim Noon phoned Bell one night out of the blue and invited him to join the club after hearing about Bell's play through the grapevine.
Bell competed for almost two seasons in Troy, N.Y., before enlisting in the U.S. Army. He served in the Vietnam War in support of the artillery as a cartographer for 16 months, from late 1967 through March 1969, at which time he was honorably discharged.
Prior to Bell leaving for Vietnam, the Army sent him to Arizona on an engineering project, and he enjoyed his experiences in the state.
After the war, Bell landed a job with Phelps Dodge and moved to Morenci.
By the late 1970s, Bell had graduated from Arizona State University, where he played with ASU's club soccer team while earning an engineering degree.
In 1979 Bell founded and coached the boys' soccer program at Tempe McClintock High, where he stayed until 1985, and coached for the Tempe Soccer Club. He subsequently spent stints as the coach at Phoenix Mountain Pointe High and as an assistant at Scottsdale Community College.
Around that time, Pantalione came knocking on Bell's door, so to speak.
"I knew many, many players in the area and throughout the state, because I had a pretty good, competitive traveling team," said Bell, who also coached at Bradshaw Mountain High in the early- to mid-2000s. "Mike called me up one day and asked me about players, and I tried to make recommendations to him prior to 1989 when the program started."
By 1991, once Pantalione received permission from former Yavapai College Athletic Director Lynn Merritt to hire an assistant, he tabbed Bell.
Yavapai won its first national championship in 1990, snagged national runner-up honors in 1991, and captured its second NJCAA crown in 1992 in Bell's first season as associate coach. The Riders' other titles came in 1997, 2002, 2003, 2007 and 2008.
On Nov. 9, several players from that 1992 squad visited Ken Lindley Field to watch the Roughriders defeat Otero Junior College (Colo.), 3-0, for the West District title and qualify the program for its 20th all-time national tournament appearance.
"We didn't have the strongest team in 1992, by a long ways," Bell said, "but we had great chemistry, and that was a huge factor."
***
On the recruiting trail in the off-season, Pantalione and Bell - two NJCAA Soccer Hall of Famers - soon developed an understanding that in order to bring a player into the program, they had to agree on him together.
"It ultimately becomes a 2-0 vote," Pantalione said. "Both coaches have to buy into that player, and the players know that. Hugh and I have great discussions when we're on the road recruiting. We do so much brainstorming on the trips when we're together because we're away from the office. We're away from distractions. We reflect back on where we've been and where we want to go."
Bell has occasionally challenged Pantalione's decisions through the years, but that's what the head coach craves. Both of them are fiery and opinionated.
"We have our disagreements about certain things, but we always get them ironed out," Bell said. "It's always about what's best for the team - what gives us the best chance to win the game."
After spending so many years together, Bell says it's as if he and Pantalione communicate in "a Yavapai language," something akin to ESP.
"He would say something and I immediately knew what he was talking about," Bell said. "Or I would say something and he would know immediately what I was talking about."
Now in the program's 25th campaign, Pantalione and Bell's passion for soccer and forging players into well-educated young men who want to make something of their lives motivates the pair to stay at Yavapai and coach.
Bell said he and Pantalione have never missed a practice, even when they were ill. Part of that dedication can be attributed to their backgrounds.
They still cherish those fleeting moments of watching the Roughriders players from a distance on the field when they celebrate winning a region, district or national title.
These days, Bell's mostly retired and he cherishes being around his wife and grandchildren.
But there will always be a place in his heart for soccer, particularly at Yavapai College, where he thanks Pantalione for "giving him the opportunity to be a factor."
"I love to come to work," Bell said. "I love to sit at that desk (in my office at the college). I love to recruit. I love to watch soccer. I love young people. Truthfully, I would wish that when my end does come, I'd be somewhere around a soccer field."
Follow Doug Cook on Twitter: @dougout_dc