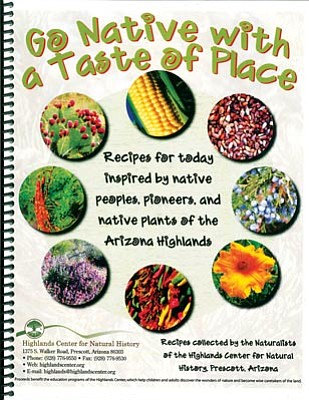 Originally Published: November 15, 2013 6 a.m.
PRESCOTT - The Highlands Center for Natural History is hosting its 7th annual Holiday Bazaar from 10 a.m. to 3 p.m. Saturday, featuring all kinds of nature-inspired holiday gifts including the center's own new cookbook.
"We have a wonderful variety of locally made arts, crafts and holiday gifts for everyone on your shopping list," said Robin Roelofs, the Highlands Center's director of Finance and Marketing.
Kids can enjoy activities such as "Name That Fur!" and "The Amazing Bag" while parents shop.
"Of course our trails are open and, weather permitting, the kids can play a scavenger hunt bingo game provided by Prescott National Forest to earn prizes," Roelofs added. "Come and make a fun family day of it."
The center is located at 1375 Walker Road on the Prescott National Forest next to Prescott. Go online to highlands center.org for more information.
The "Go Native with a Taste of Place" cookbook will be on sale for $16 in November, a 20% discount.
Highlands Center volunteer Marion Johnston edited the cookbook. The first edition sold out the first week, she said. She has a Home Economics and Restaurant Management degree and oversaw catering operations for the Greyhound Company for many years, a corporation that had 60 companies under its umbrella.
Center board members, naturalists and staff contributed recipes.
Inspired by native peoples, pioneers and the native plants of the Arizona Highlands, the cookbook offers such treats as Little Thumb Butte Green and White Chili, Whiskey Row Potato Soufflé and Mesquite Chocolate Chip Cookies.
"We included actual recipes from some of the tribes, and others that were 'inspired' by native people and plants, some 'modernized' to appeal to today's tastes and ingredient availability," Johnston said.
Johnston will give a brief presentation on her background and the cookbook at 10:30 a.m. Saturday at the beginning of the Highlands Center's bazaar.
Samples of the recipes for Blue Corn Muffins, Rattlesnake Chili and Indian Corn Pudding will be offered while supplies last. Additional "Taste of Place" treats can be purchased from the bake sale table all day for just $1.
The book also includes stories, photographs and quotes based on the recipes. The grandmother of Prescott's Robin Ogg, Stella Byrd Cartwright Carter, was often faced without the basic necessities. Her recipe for Pioneer's Eggless, Milkless, Butterless cake makes wonderful use of spices and nuts.
All purchases at the bazaar benefit the non-profit Highlands Center and its educational programs.
More like this story