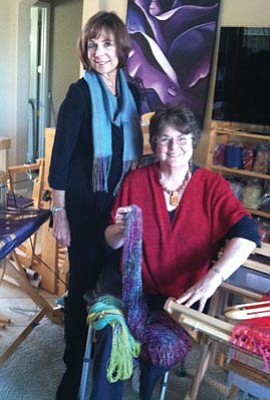 Originally Published: November 7, 2013 6 a.m.
If weaver and spinner Anne Marston ever has the inkling to get away from her passion -her artistry in woven fabrics - she does have one respite - her bedroom. The rest of her house is devoted to weaving, a little bit of spinning, knitting, sewing and dying yarns.
"My living room has four looms in it," she said, all pointed in the direction of her big TV set, so she can work while she watches. Another room is for doing her tapestry and another for hand-dying her yarns and yet another for beadwork. The kitchen is free for traditional use, but the island, she said, is a great place to lay out fabric to work on.
Her artistry will be among the featured items at the Mountain Spinners and Weavers and the Prescott Area Woodturners annual Holiday Show and Sale from 10 a.m. to 4 p.m. this Saturday in the Marina Room at the Hassaympa Inn, 122 E. Gurley St. Admission is free.
Together, the groups will offer a wide variety of artwork and gifts for sale. Fiber creations by the spinners and weavers will include wearable art of all kinds, fashion accessories, household décor, beadwork and jewelry, basketry, children's wear, pet items and handspun and hand-dyed yarns and fibers.
The woodturners will display crafted works in exotic woods, including decorative boxes, turned bowls, vases, ornaments, carvings and sculpture.
During the event, spinners and weavers will be on hand to demonstrate the various aspects of the fiber arts. There will also be a raffle for the chance to win handmade items.
Marston's collection at the show and sale will include a "mobi-v-wrap," which has a twist of fabric in the front, creating "a nice drape," she said. Scarves, knitted items, Christmas ornaments, knitted hats and fingerless gloves will also be among the items she will be selling.
Marston enjoys working in rayon chenille fabric and for colors, she "loves reds, oranges and magentas," These, she said, are the colors "I have the biggest crush on," and they are popular with people, too, she noted.
While Marston's artistry may consume a lot of space in her home, "I still have room for my cat," she said.
More like this story