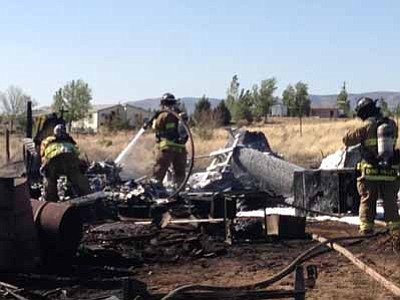 Originally Published: May 20, 2013 9:55 p.m.
Chino Valley firefighters put out a wildland fire Sunday afternoon in Paulden that burned several outbuildings, Chino Valley Fire District spokesman Rob Zazueta said.
When firefighters arrived on scene, they found the wildfire moving rapidly because of heavy winds and saw several outbuildings on fire. The buildings were not occupied, but were being used for storage on fire
"The resident stated that he was burning in a burn barrel when a dust devil lifted sparks that ignited his grass and weeds," Zazueta said. "The wind spread the fire which ignited the buildings."
Four fire engine crews and wildland patrols responded to the fire along with several water tenders and kept the flames from spreading to the home, Zazueta said.
"Fire crews worked very quickly and efficiently and spent several hours in putting out hot spots to ensure that there was no danger of fire spreading," Zazueta said.
Prescott firefighters helped put out the fire and Central Yavapai firefighters helped staff fire stations as part of the automatic aid agreement between agencies, Zazueta said.
"Fire can spread quickly during our windy season," Zazueta said. "The lack of moisture in our climate has created very dry conditions. It is very important that we are abiding by the rules of burn permits, and that burning is being conducted only during the hours that are allowed."
Zazueta noted that Prescott National Forest has begun fire restrictions, and that high temperatures paired with windy conditions will soon bring further restrictions.
Anyone with questions on burn permits and fire safety should call Chino Valley Fire District at 928-636-2442.
More like this story