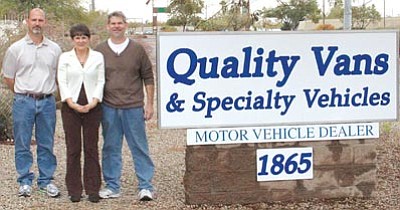 Originally Published: March 9, 2013 10 p.m.
TEMPE - Doug and Vicki Reber moved to Prescott from Beaverton, Ore., in June 1998 after selling a retail startup that they owned for four years.
"And we helped them to find a small battery business," recalled Fred Kennedy, senior business adviser of the Small Business Development Center in Prescott.
The Rebers bought Interstate Batteries and became the sole distributor of Interstate Batteries in Northern Arizona.
Doug said he tripled the size of the warehouse to 6,800 square feet in 2005, and amassed an inventory of 6,000 to 7,000 batteries.
Impressed, Kennedy successfully nominated the Rebers about four years ago for a statewide Success Award from the Arizona Small Business Development Center Network.
He successfully nominated the Rebers again, for 2013, but this time for a company they bought in 2011: Quality Vans & Specialty Vehicles in Tempe.
"They could not sit on their hands very long," Kennedy said. "They were looking for another business to acquire. For the most part, there was no longer a challenge."
Doug concurred, saying, "The challenge went away."
The Rebers sold Interstate Batteries in November 2011, Doug said.
"We took a year off to figure out what we wanted to do," he said.
Doug, Vicki and his brother, Gary, bought Quality Vans in 2012 from Ed and Kathy Steele, who retired. Vicki is the president, Doug is the vice president and Gary is general manager for a company with 13 employees.
It is the "right challenge," Doug said. "It is a completely different business model, business type."
The website for the company, www.qualityvans.com, states the Rebers "saw an opportunity to apply the skills gained in more than 25+ years of small business, wholesale distribution, engineering and technology."
Quality Vans started in 1974 as a local van uplifter in Mesa, and expanded as van conversions gained popularity through the 1970s and'80s, according to the website. Previous owner Bob Becker began supplying a popular line of van conversions to the dealer networks after obtaining bailment pool status for Dodge and General Motors products.
Becker was ready to retire in April 1999, and sold the business to the Steeles.
The Steeles added several employees, and established their capabilities as a specialty vehicle manufacturer. They moved to a 12,000-square-foot building in Tempe in 2004.
Since then, Quality Vans has designed and built numerous medical, municipal, police and emergency vehicles. They have ranged from health screening, maternity testing and recycling education to public safety vehicles such as prisoner transport, SWAT teams, explosive ordnance device trucks, drunken driving enforcement, mobile command and surveillance vehicles.
Quality Vans serves a niche market of county, state and federal law enforcement agencies and other government services, Doug said.
Doug said the family-owned business plans to expand its partnerships with other companies.
Doug maintains his residency in Prescott, while Vicki telecommunicates from their home. He stays in the Valley during the week.
Doug credits Kennedy with helping him to evaluate businesses for the past 12 to 13 years.
Kennedy said, "I am helping them with exportation issues and also government procurement because they are taking this business to the next level. I helped them finance it. I am helping them develop their line of credit."
He said he nominated Quality Vans for the Success Award because it represents "the real entrepreneur."
Quality Vans is among 13 recipients of the awards for 2103. The Small Business Development Center plans to honor them during a legislative lunch 11:30 a.m. to 1:30 p.m. March 18 on the House Lawn of the Arizona State Capitol Complex, 1700 W. Washington St. Ginger Lamb, publisher of the Arizona Capitol Times, will emcee the event.
More like this story