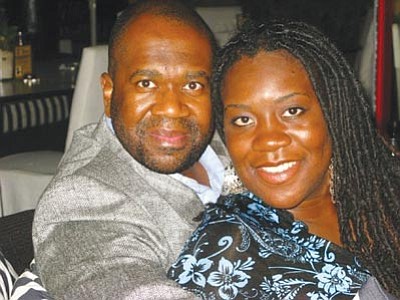 Originally Published: June 20, 2013 6:05 a.m.
Prescott resident Marion Johnston saw her first opera when she was 15 years old and "has been hooked ever since," she said.
To this day, opera music enchants her. "Music does a thing for me that nothing else does," she said. "Classical opera is a big part of my life."
She and other organizers of "Opera in the Pines" Saturday at the Highlands Center for Natural History hope this appreciation of opera will spread to people unfamiliar with this genre and attract aficionados as well.
Guest artists for the evening, which runs from 6:30 to 9:30 p.m., are Earl and Alexis Davis Hazell and Darrell and Linda Rowader. Their accompanist will be Jeremy Peterman.
The Rowaders, both natives of Chicago now living in Cherry, Ariz., have individual international musical careers. Darrell is currently a music educator at Liberty Traditional School in Prescott.
Darrell began his career as an apprentice artist with the Santa Fe Opera and has since performed internationally in more than 25 operatic roles in seven languages.
Both he and Linda have sung at Carnegie Hall in New York City, Darrell as a soloist in Andrew Lloyd-Webber's "Requiem" in 1986 and Linda at a later time in Mozart's "Requiem."
More recently, Darrell made a solo appearance in the International Haydn Music Festival in Vienna, Austria, in 2008. Linda has performed with Chicago's Lyric Opera, Chicago's Grant Park Symphony Chorus, the Boston Pops and Phoenix Symphony Orchestra.
Together the Rowaders have performed throughout Ireland and Wales and with the Oxford Orchestra in Oxford and Cheltenham, England, as well. In the Phoenix area, they have worked with the Choral Society, with Darrell as conductor and Linda as soloist.
Earl Hazell looks forward to a reunion with the Rowaders, since he and his wife appeared recently with them in "Kings and Queens" at the Prescott Center for the Arts. They have also traveled from Tempe to perform in recitals at the Elks Opera House.
The Hazells are both trained opera singers. They have sung with Arizona Opera, Phoenix Opera, Southern Arizona Symphony Orchestra, and other operas around the country as well as in houses throughout Europe.
"When we talked to the singers.we wanted them to pick what they thought was the most beautiful music" for Saturday's "Opera in the Pines," Johnston said.
The concert program includes selections from Verdi and Saint-Saens to Gershwin.
Tickets to the performance are $50 and proceeds will support children's programs at the Highlands Center. Wine, cheese and dessert will be served.
This is the first opera event at the Highlands Center, Johnston said, expressing hope for more such programs at the center in the future.
Her co-chair, Gwyneth Mies, said a group of Highlands Center volunteers "love opera.
"This is a beautiful fundraiser - to bring opera outside in a forest. It will be great to hear fine music in a beautiful setting."
The Highlands Center is at 1375 Walker Road in Prescott.