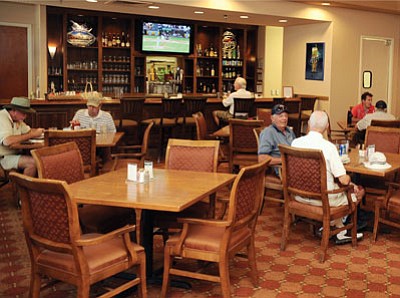 Originally Published: June 14, 2013 10:17 a.m.
The StoneRidge Golf Course & Grille restaurant attracts homeowners who enjoy the country-club lifestyle.
It draws golfers and others who want to dine on a modest-priced meal while enjoying the view of the greens or watching a sporting event on a flat-screen television set, said Cindy Reynolds, director of food and beverage.
Some homeowners eat there daily, said Reynolds, who has worked at the grill since it opened 13 years ago.
Commented Tom Catanzarite, director of golf course operations: "We enhanced the whole lifestyle of StoneRidge for our homeowners."
And while homeowners constitute around half of the grill's patrons, the grill also lures patrons who live in upscale subdivisions in Prescott, Reynolds said.
She said the banquet room hosts business meetings and speeches by Gov. Jan Brewer and other political VIPs.
"We have a lot of groups like social clubs that meet here regularly," Reynolds said. They include the Red Hat Society and the Democratic Women's Club, as well as birthday, wedding and retirement parties.
"Everybody knows your name," said Reynolds, who greets patrons when they arrive.
Reynolds said golfers make up about one-third of the patrons, and a majority of the patrons arrive during lunchtime.
"I think probably because we don't carry a dinner menu," Reynolds remarked. "We used to. We don't get enough business from it. People like to come to happy hour."
The grill recently added a breakfast menu, and will have a wedding green outdoors, she said.
"We are adding a misting system to our patio," she said.
She said all meals served at the grill are made to order. The menu states, "If you have a special dietary need, please let your server know so that we can prepare your meal with extra care."
The menu
The wait staff serves breakfast from 8 to 11 a.m. Fridays through Sundays. Items range in price from $2.99 for oatmeal to $8.99 for a Mexican omelet that features three eggs, chorizo, onions, peppers, jalapenos and cheese topped with avocado, hash browns and toast or pancakes.
The regular menu for lunch and dinner takes up a full page.
It starts with "Fore Starters" ranging in price from $4.99 for chips with salsa to $12.99 for 13 coconut shrimp with cocktail or spicy marmalade sauce.
Diners can order half or full portions of the "Rub of the Green salad items. They range in price from $3.99 for a half order of a house salad to $10.99 for a beef fajita salad, and full cobb salad.
The "Midday Rush" has a large selection of sandwiches that range in price from $4.99 for a half deli stacker (a cold sandwich with a choice of smoked ham, turkey or tuna salad and a choice of bread) to $9.99 for a cheese steak and meatball sub. Patrons may order several half sandwiches, and sandwiches come with a choice of cole slaw, potato salad, cottage cheese, fresh fruit, French fries, a cup of soup or a side salad.
Patrons can order molten lava cake ala mode or a traditional carrot cake for dessert.
The burgers are the most popular items on the menu, Reynolds said.
They feature Angus beef, Catanzarite said, adding, "If you eat meat, you might as well eat the best."