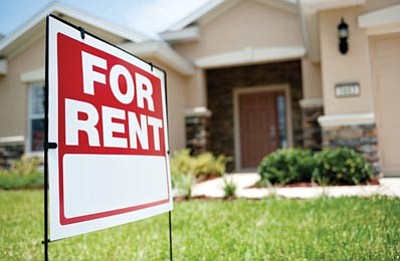 Originally Published: June 7, 2013 6 a.m.
Evicting tenants, showing properties, enforcing rules and clearing out properties in which the renter has died are among a number of responsibilities that property managers perform.
"These are normal things," said Sam Lewin, owner of A1 Properties in Prescott. "It's like complaining about being busy if you are cooking at a restaurant."
The main goal of property managers is to protect the investment of their clients while maintaining rental properties, said Dominique Higa, broker at TNT Property Management in Prescott.
Property managers such as Higa and Lewin represent absentee owners from out of town as well as area residents who do not want to handle the day-to-day affairs of managing their rentals. Property managers represent single-family homes and multifamily units, which include apartments.
Jamie Nixon, designated broker at Rent Right Management Solutions in Prescott, recalls dealing with the aftermath of two suicides years ago when she worked for another property management company. A roommate notified her in one case, and the police did so in another incident.
Nixon said she cried upon learning that a college student committed suicide "because I had kids his age."
She said she visited the rentals after a janitorial crew remediated and cleaned up the apartment. Remediation includes removing blood from carpets.
Kris Nelson has faced death by natural causes while working in the property management field. One of the tenants was in his 30s and had been dead for less than 24 hours, Nelson said. His parents arrived afterward to retrieve his personal effects.
Nelson, branch manager for West USA Realty in Prescott Valley, said a new lease form contains an addendum with a contact phone number to let the property manager know who has the authority to enter a rental during emergencies.
Another risk factor is tenants' negligence leading to fire or other damage. Nelson recalls a tenant who caused a fire by leaving a pot on the stove while going grocery shopping. The fire damage made the unit in the fourplex uninhabitable.
Many property managers ban smoking in their rental units even though the main fear is not preventing fires: Cigarette smoke stains walls and carpets, and gets into the ductwork of heating, ventilation and air-conditioning units, Higa said. She said she terminated the lease of one tenant because he violated the no-smoking clause.
Higa said she also holds a tenant responsible if his or her pet urinates on a floor.
"You need to take care of your animals," she said.
Some tenants who have had nasty breakups have damaged their units, such as by punching a hole through the wall, Nixon said.
However, Nixon said she typically has had good luck with tenants, who pay rent on time and do not destroy property.
If a tenant is behind in rent, Lewin said he gives the tenant a five-day notice to pay the rent or move.
Property managers also conduct drive-bys to check on the rentals. For instance, Lori Burgan, property manager at Liberty Management Group in Prescott, said she visits rental homes in Prescott Valley as often as once a month to make sure renters are abiding by the town's weed ordinance. The ordinance requires responsible parties to trim weeds so they are under 12 inches in height. Nelson said the responsibility for weed removal falls on renters if they are staying in a single-family home.
"An owner generally takes a little better care" of the property, Nelson said.
The town's code enforcement supervisor, Fernando Gonzales, agrees. "We have had more issues with rental properties than owner-occupied," Gonzales said. "It could be potentially a fire hazard."
He said his office sent 3,320 notices in 2012, with a majority of the notices affecting rental properties.