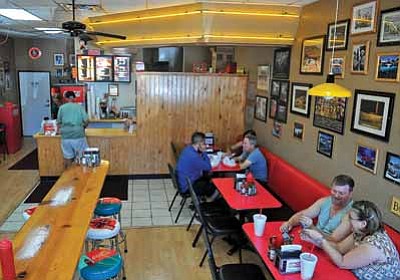 Originally Published: June 7, 2013 6:02 a.m.
PRESCOTT - Open nearly four years, Brown Bag Burger is a fast-food establishment that has survived despite plenty of competition from national chains and franchises.
Located in a storefront in the Albertsons shopping center off Marina and Sheldon streets, it draws shoppers, high school athletes, professional people and other regulars, said Carol Hopkins, who co-owns the establishment with her son, Michael Gentle, who moved to St. Petersburg, Fla.
Hopkins, who has worked 40 years in the restaurant business, said Brown Bag Burger draws regular customers by offering good food and quality service.
"You know you get your money's worth," Hopkins said. "You pay more money for a better meal."
Hopkins formerly managed a Brown Bag Burger in Yuma from 2003 until moving to Prescott and opening Brown Bag Burger June 24, 2009. A Yuma resident of 18 years, she moved to get away from the heat and to "very much" seek a change of scenery.
"I was never a desert person," said Hopkins, a native of the San Fernando Valley area of Los Angeles.
Brown Bag Burger is an informal venue where patrons can get a quick bite to eat. Framed photos of James Dean, Marilyn Monroe, Elvis, John Wayne, classic cars and other pop culture icons from a bygone era decorate the walls.
Patrons can sit at tables along the walls or at a counter in the middle of the establishment, or take out an order to eat at home or at their offices.
"And if people are really in a hurry, they can call ahead," Hopkins said.
Brown Bag Burger prepares hamburgers under an open flame and to order "because it is fresh cut," Hopkins said.
"The people seem to enjoy the food," Hopkins said.
Hopkins said being a restaurant owner for the first time comes with headaches and stress.
However, she draws immediate satisfaction from seeing customers enjoy their meals.
"I have had people come in here (and) say they don't eat hamburgers, but they eat ours," Hopkins said.
Hopkins apparently looks forward to summer when Phoenicians visit Prescott to escape the valley heat.
The Menu
Brown Bag Burger offers a selection of burgers, which come with French fries. They start in price with a 6-ounce burger for $6.95 and peak at $14.40 for a chili-size fries: fries with cheese and onions and a 20-ounce hamburger with chili.
The restaurant also has a small selection of chicken, shrimp, fish and Polish dogs. Chicken breast sandwiches and a six-piece shrimp basket sell for $8. A regular Polish dog costs $4, and three-piece fish basket goes for $8.45.
Brown Bag Burger sells smaller portions for children's meals. A cheeseburger, three-piece chicken nuggets and three-piece shrimp basket for children under the age of 8 cost $5.
Prices for children under age 12 are $5.95 for a cheeseburger, $7.05 for a bacon burger and $7.60 for a bacon cheeseburger.
A number of customers ask for hamburger patties without buns, Hopkins said.
Brown Bag Burger also sells milk shakes, malts and other drinks.
Seven-ounce hamburgers and bacon cheeseburgers are top sellers, Hopkins said.
"It is good, and we put enough bacon on it so you can taste it," Hopkins said.