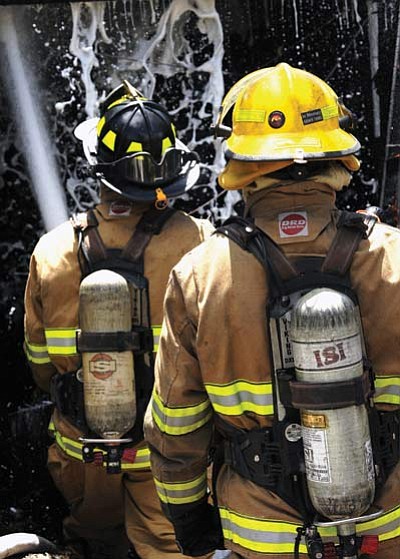 Originally Published: July 30, 2013 6 a.m.
Prescott firefighters are currently investigating a shed fire on the 600 block of Granite Street. Fire personnel responded to the structure just after 12:30 p.m. Monday. Flames had engulfed a large work shed on the property as the first engine arrived, said Wade Ward, public information officer with the Prescott Fire Department.
Crews used two lines to control the fire. A home on the property, estimated at $110,000 was undamaged, Ward said. The shed was estimated at approximately $10,000.
Prescott fire crews also responded to a fire on Talwatha Drive. Engine 72 responded to reports of a possible structure fire, but found a dryer on fire instead. According to Ward, smoke from the dryer vents drifted into the attic of the home, causing residents to believe the home was on fire.
"They were able to shut the dryer off, close the vents and check the attic for heat and hot spots," Ward said.
Investigators are still looking into the cause of both fires, he said.
More like this story