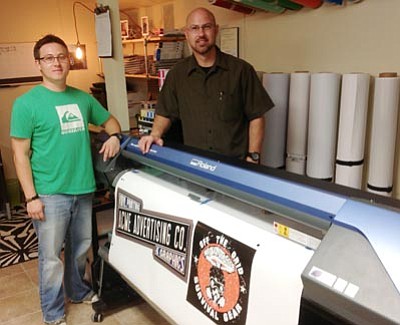 Originally Published: July 24, 2013 6 a.m.
PRESCOTT - The owner of a business that prepares customers for natural disasters has diversified by opening a business that makes promotional materials, as well as a separate business that sells and repairs computers.
Lee Divelbiss moved Off the Grid Survival Gear from Iron Springs Road, and shares the new location at 711 Miller Valley Road with two businesses that set up shop April 1: Acme Advertising Co. LLC and The Tech Center. He has two partners for his new business ventures: Daniel Olague and Orion Hunke.
"We created our own strip mall," Divelbiss said, referring to the building, which contains about 3,700 square feet and is across Miller Valley Road from a Fry's supermarket.
The three businesses cross-pollinate, Divelbiss said.
For instance, a customer for Off the Grid might seek to have his or her computer repaired, and another walk-in might want to have Acme produce a banner advertising that person's business.
Divelbiss and his partners chose the name Acme because the word means "pinnacle," he said.
"We like it because it reflects us," he said. "We like to be the best."
The main focus of Acme is "anything vinyl or sign-related," Divelbiss said. Vinyl is used for lettering and stickers.
Acme produces banners, vehicle wraps (advertisements placed on car windows), business cards, screen printing, embroidery on shirts and hats, posters and signs. Embroidery involves stitching logos onto clothing.
Customers include mom-and-pop businesses, real estate offices and big companies that need to advertise their products and services, Divelbiss said. Acme also is selling decals with the logo for the Granite Mountain Hotshots with proceeds benefiting the families of the 19 fallen firefighters.
Both Acme and The Tech Center provide web design, Divelbiss said. The Tech Center edits videos as well.
The Tech Center is an extension of SureTech, a home-based computer networking consulting business that Divelbiss started in 2007. The Tech Center sells Acer computers and repairs computers and printers.
Divelbiss said the owners bring their different skills sets. He handles the business end, Hunke is a designer and Olague brings business and sales skills to the partnerships.
Acme's manager, Jeremiah Sawyer, displayed his computer skills by printing a logo for Acme on a Roland VersaCamm printer Monday.
"I like the creative aspect as part of it," Sawyer said about his job. "I like designing."
Sawyer, a former pastor at the Potter's House, started a year ago with Divelbiss at Off the Grid.
Meanwhile, his boss, Divelbiss, said, "We want to continue to grow and meet the communities' advertising needs."
Divelbiss graduated from Prescott High School in 1988, and returned to his hometown in 2003. He served four years in the U.S. Army, including a stint in Desert Storm; earned a bachelor's degree from Grand Canyon University in Glendale in 1996 and entered the work force. He switched to the information technology field after working in nursing home administration.
He struck out on his own by after working for a Prescott-based computer business.
Acme Advertising and The Tech Center main office hours from 10 a.m. to 5 p.m. Mondays through Fridays and from 10 a.m. to 4 p.m. Saturdays. For more information, call 493-4170, or log onto www.acmeadco.com. The phone number for The Tech Center is 493-4160
Have you opened a new business that is not home-based? Email khedler@prescottaz.com.
More like this story