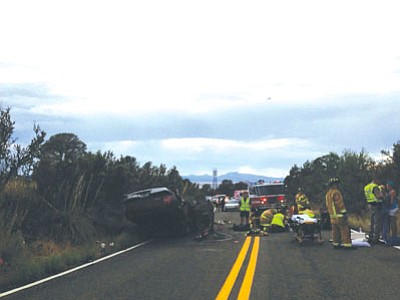 Originally Published: July 19, 2013 6 a.m.
The Arizona Department of Public Safety confirmed Thursday evening that a Prescott Valley woman died from injuries that she sustained in a single-vehicle rollover Wednesday evening on Highway 89A east of the Yavapai County Fairgrounds.
DPS identified the woman as Jamie Nicole Morales, a 30-year-old passenger in the vehicle. She died Thursday morning at Yavapai Regional Medical Center East in Prescott Valley.
DPS did not release the name of the driver, a woman believed to be in her 40s who also was injured in the 5:30 p.m. rollover.
Highway 89A remained closed for about two hours while authorities investigated the accident.
More like this story