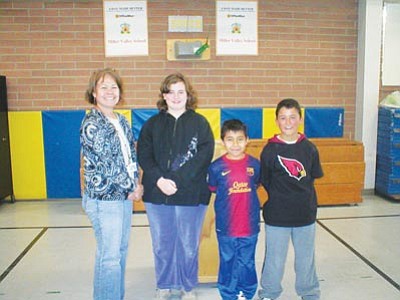 Originally Published: January 24, 2013 9:59 p.m.
Aldo Munoz, a fourth-grader who won Miller Valley School's spelling bee, said he was a little nervous competing in front of the whole school during the event, but he had practiced quite a bit at home with help from his family.
Aldo will represent the school at the Yavapai County Spelling Bee on Feb. 13 in Camp Verde.
Runner-up Jose Contreras, a fourth-grader, said he was excited about how well he did in the bee and his family was so proud.
Fifth-grader Ruby, the second-runner up, said her favorite part of the spelling bee was being up on stage.
Miller Valley fifth-grade teacher Sandy Spillman said each teacher picked the top six spellers in their class and gave them a packet of words to prepare with.
The students met each day at lunch to practice and to learn about the spelling bee's format prior to the competition.
"It's good to recognize these students for their spelling; they work hard at it and really excel," Spillman said. "It gives them a feeling of accomplishment, and their families are so proud of them."
More like this story