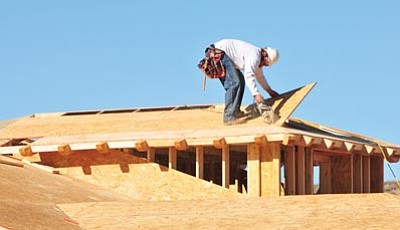 Originally Published: January 10, 2013 10 p.m.
During the Great Recession, hundreds of thousands of construction workers lost their jobs nationwide as the housing market tanked, said San Griffis, executive director of the Yavapai County Contractors Association.
However, the housing market is beginning to recover as the economy improves, and that has led to a shortage for both unskilled and skilled workers in the construction trades, Griffis and others said.
"Because of this, it has resulted in a very wide gap between the construction labor demand and supply," said Griffis, who heads an organization with around 300 members.
The labor shortage also could lead to higher home prices, some experts said.
"You lose half of your skilled people in a bad economy," said Kim Gagnon, co-owner with husband Bill of The Plumbing Store in Prescott. They either retrain to enter another field, or leave the state or country.
"This is getting harder and harder for skilled labor in our area," Gagnon said. "We don't have a trade school locally in our area."
Fewer high school graduates are entering the construction trades, Griffis said. She added the Mountain Institute Joint Technology Education District is preparing high school students to enter high-tech fields instead of the trades.
Another factor is the signing by Arizona Gov. Jan Brewer in April 2010 of SB 1070, which became the toughest piece of legislation to crack down on illegal immigration.
In any case, she said the labor shortage has gone on for at least six months.
Some members of her association said they are having a harder time filling openings, especially skilled trades.
"Skilled labor has always been a problem, but I would say it has really intensified in the last three to four years," Gagnon said.
"In our case, we hire plumbers, and they need at least a journeyman or five years in the trade," Gagnon said.
Skilled plumbing technicians can earn $26 an hour, and The Plumbing Store has been looking for about four months to recruit one full- and one part-time employee, she said.
Gagnon said she needs experienced plumbers because she and her husband do not have the time to train anybody. The Plumbing Store currently has three plumbers on staff.
She said she has advertised on national websites as well as websites that serve veterans returning from the wars in Iraq and Afghanistan.
"I would love to employ veterans," Gagnon said. "I have not had anybody apply yet."
Unlike The Plumbing Store, Therese Stover, owner of Arizona Green Plumber in Prescott Valley with husband Steve, said she currently does not have any openings.
However, she agreed with Gagnon, saying, "It is difficult to find a good plumber because they need to have a clean background" with no criminal record.
Stover said a labor shortage has not resulted in higher wages for plumbers.
"The (bad) economy has changed the wages," she said. "We can't raise our prices and pass it on to the customers."
The labor shortage has affected Matt Greenlee, owner of Greenlee Designer Surfaces, a Prescott-based tile company.
"My labor shortage is in the designer part," Greenlee said, referring to interior designers who work in the showroom. "I think the design people have moved into other segments of the industry and have found other things to do."
Asked about unskilled labor, Greenlee said, "I am having a hard time finding people who want to work. It's physically demanding. I think there is a lack of patience in learning a trade and to be competent at it."
A labor shortage currently does not apply to the three Able & Ready businesses that Turc Hartman owns and manages in Prescott Valley.
However, he said he is trying to recruit an operations manager for his restoration company and president for his painting and remodeling company.
"What we are finding is we are getting many people who are overqualified or people are applying for a job out of their skill level," Hartman said. "We actually had somebody who was certified and educated in the medical field, but she was applying for a construction management position."
Hartman said he has looked in the past for restoration technicians to repair damage from fire, water and molds.
"With that field, you have to be certified," he said. "Nobody was qualified, or there was one or two who were qualified, but they wanted pay scale back from when the market was stronger."
The labor shortage could trigger higher home prices, according to Jim Gunby, vice president of Dorn Homes in Prescott.
"With the increase in housing, it is probably better said it is hard to find good trade contractors," said Gunby, whose company is building homes in the Quailwood subdivision in Prescott Valley and three other communities. "A lot of them during the downturn left the state, basically."
However, Gunby commented, "The thing is what we are able to do is we spent two years developing a relationship with our trade partners, and continue to do so."
By building those relationships, Dorn Homes can control costs and quality, he said.
Griffis called for relieving the labor shortage by adopting immigration reform at the national level, and lauded Arizona's new Republican senator, Jeff Flake.
"We need immigration reform to bring workers back into these industries," Griffis said. "Without a sufficient labor force, our entire recovery will be stymied."
More like this story