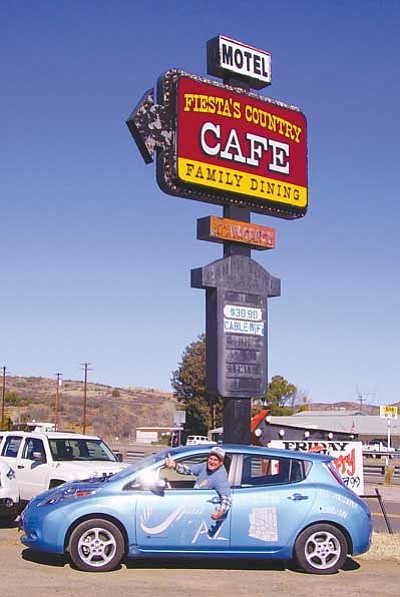 Originally Published: February 13, 2013 11:23 a.m.
On Martin Luther King Day, Jan. 21, Jerry "EVJerry" Asher set out on his 2nd Annual Plug'n All Around Arizona EVenture, driving an electric car, a 2011 Nissan LEAF dubbed the "Spirit of AZ."
One of his stops brought the state-of-the-art vehicle to historic Mayer, where Asher recharged the vehicle at the Country Café and Motel.
Asher drove the vehicle 1,750 miles through 15 counties in his 2013 journey. The tour is his attempt to educate Arizona about electric cars and clean energy by visiting all 15 county seats of government along the way. He headed from Tucson on MLK Day and plans to end the journey on Thursday, Valentine's Day, in time to celebrate Arizona's Centennial Plus One, the 101st anniversary of Arizona Statehood Day.
"The P3A Plan is to educate Arizona by means of a 'seeing-is-believing' approach by visiting all 15 county seats of government in a pure Electric Vehicle (EV)," Asher said. "The intention is to demonstrate that Arizona's energy future is, indeed, electrifying with plug-ins and EVSE charging stations as well as with the growing industry of solar energy and other sustainable sources of energy."
Asher's journey encompassed 60-100 miles each day, with site visits being dependent on weather. "The Spirit loves sunshine and EVJerry is allergic to snow," Asher said.
After his stop to recharge in Mayer, Asher drove into Prescott, where he recharged the LEAF at the Lamb GM Volt charging site, "courtesy of Keith, the service manager," Asher said. Yavapai was the eighth county Asher visited.