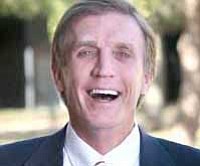 Originally Published: February 7, 2013 9:55 p.m.
God bless America, and how's everybody?
Hasbro announced a new board piece for Monopoly on Thursday. They've replaced the iron with a cat. They were going to replace the top hat with a tiny statue of Mitt Romney, but it throws the game off because the person with the most money doesn't win.
Thailand protested a Saturday Night Live skit in which creepy guys learn Thai in a language class so they can barter with hookers in Thailand. They say it hurts tourism. The skit got all the prices wrong and they incorrectly translated ping-pong as billiard ball.
King Richard III's skeleton was found in England 525 years after his gruesome death in battle at Bosworth Field. Experts verified the king's identity by the stabbing wounds at the base of the skull. Ray Lewis wishes everyone would just drop it.
New Orleans will celebrate Mardi Gras all weekend with floats and parades through the French Quarter. The merriment is always bawdy. This year instead of beads, the women on the floats will take off their tops if you throw them a battery-powered flashlight.
The NFL scheduled next year's Super Bowl to be played outdoors in the cold weather up in New Jersey. Whose idea was this? The Super Bowl used to be the premier sporting event on the calendar, now it's just one more bailout for hurricane-ravaged cities.
The Auto Club reported that gas prices hit an all-time high for February, passing four dollars a gallon in Los Angeles. It hurts everyone. During the morning rush hour, Los Angeles cops pulled over a van heading into downtown and found fifty legal Americans in it.
House Republicans held a hearing on immigration Tuesday looking for a middle way between amnesty and deportations. Illegal immigrants pay no income taxes and the government has no control over them. They're the Republicans the Republicans have long dreamed of being.
North Korea released a fantasy video Monday showing a North Korean missile attack on New York. They're safe from reprisal. The U.S. will never conquer and occupy North Korea unless the Republicans think it has oil or the Democrats think it has potential voters.
More like this story