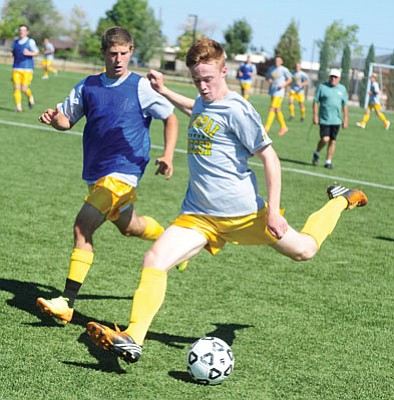 Originally Published: August 18, 2013 6:01 a.m.
PRESCOTT VALLEY - Despite having 22 freshmen and no returning starters from last season on his full 26-player roster for the upcoming 2013 campaign, Yavapai College men's soccer coach Mike Pantalione's vision is clear.
He's put together a "two-year plan" for getting the seven-time national champion Roughriders back to the NJCAA National Tournament, which Prescott and Prescott Valley will host next year.
Yavapai has not reached nationals since 2009, the longest drought in the program's 25-year history. The Roughriders last won it all in 2008 in Phoenix en route to a perfect 26-0-0 campaign.
"There are no guarantees for Yavapai College to qualify for the national tournament, so we're just trying to increase the chances of us being a part of the 2014 event by having a nucleus of sophomores," Pantalione said from practice Aug. 13 at Mountain Valley Park. "Although, of course our immediate goals and objectives are the 2013 season."
In 2008, the Roughriders featured 10 sophomores in their starting lineup, and those players' experience proved vital to the team's national championship victory.
This past off-season, Pantalione and longtime associate coach Hugh Bell spent about six months recruiting, placing an emphasis on luring to YC's Prescott campus a group of cerebral, hard-working and disciplined freshmen that are as strong in the classroom as they are on the field.
There may be no superstars, but that's all right with the coaches.
Less than two weeks into preseason drills, Bell said that after an initial feeling-out process, the freshmen are coming into their own.
"As the time progresses and each day goes by, we see improvement, and that's based on comfort, on confidence," he said. "They are quality young men. They have their fun and they act properly."
Pantalione added that eight of his 22 freshmen are applying for the YC honors program and other related clubs for the fall semester.
Admittedly, the coach is taking a calculated gamble, hoping that most of his young players will stick around for two years in Roughrider uniforms rather than depart for four-year schools following one season in green and gold.
Pantalione said the 2013 team, which is ranked fifth in the NJCAA Division 1 preseason poll, in some ways already reminds him of the first Yavapai squad he ever recruited for YC's inaugural season in 1989. That class helped the program win its first national title the following autumn, in 1990.
Of the current club's four sophomores, only two return from a 2012 Roughriders team that won the Arizona Community College Athletic Conference (ACCAC) and NJCAA Region 1 tournament crowns, but lost to upstart Northwest Wyoming in the district round and finished with a 21-3-0 record.
Those returning sophomores are attackers Matthew Paine (6-foot-1, 180 pounds) and Milan Popovic (6-2, 165), who should pace Yavapai offensively.
But they'll have big shoes to fill.
Last fall, freshman forward Alex Harlley led the Roughriders in scoring with a whopping 22 goals and 17 assists (61 points), but the first team All-ACCAC/NJCAA Region 1 pick departed campus in the off-season to pursue a pro soccer career. Gone, too, is attacker Jonathan Grant, another freshman starter in 2012.
Pantalione said Paine, who has been "a quality attacker in this preseason," and Popovic are currently playing in front of the defense to better organize the defensive scheme.
"Our back four potentially could be under a lot of pressure this season," he said. "But when the midfielders and forwards do their work, and if we defend as a unit, then it will be the same old Roughrider system of play in action."
Popovic, an attacking midfielder/defensive mid, said there's been an adjustment process for him and Paine so far in the preseason in setting the standard for the team. However, he likes how every roster player can compete at multiple positions.
"The chemistry's amazing, and it's better than last year," Popovic said. "We push each other, and we want to win."
Paine, a forward, said it feels different being a leader "by default," although the excitement and respect he sees from the freshmen has made his job easier on offense.
"We're just going to move the ball around and get some of our key players lots of touches on the ball and see what we can build from there," he said. "I'm really excited."
In goal, Pantalione and Bell brought in three new goalkeepers in freshmen Bradley Trella (6-2, 160) of Chandler, McKay Owsley (6-0, 185) of Federal Way, Wash., and Daniel Diaz (6-1, 180) of North Las Vegas, Nev.
Last year's goalies, including standouts Daniel Sellitti and Agustin Rey, were sophomores, and freshman reserve Kieran Coleman-Fry left the program over the off-season to attend a four-year school.
Pantalione said Trella, Owsley and Diaz each have unique abilities and styles. He won't name his starting keeper until just prior to the first conference match versus Chandler-Gilbert this Thursday at the Prescott Valley Amphitheater.
"It's wide open," he said of the goalie competition in the preseason. "Anytime you're a starter in this program, you don't look over your shoulder. You keep working."
On defense, Yavapai will miss graduated first team All-ACCAC/NJCAA Region 1 sophomore defenders Sam Cusack and Eddie Jasso the most.
Two starting freshman defenders from 2012, Alonso Diaz and Raul Cardona, won't be in the fold either this fall. Diaz enrolled at UNLV, although Cardona could return next year.
One possible replacement, freshman defender Tyler Shadix (6-2, 170) of Vancouver, Wash., has shown early signs as a potential starter and leader along the back line, Pantalione said.
"I believe he understands and helps communicate the information provided by the coaches to the other players," Pantalione added about Shadix. "That's a start, and then hopefully the other newcomers will follow suit."
Shadix said he appreciates the current Roughriders players' positive attitude toward training and their willingness to try and meet the program's lofty standards.
"There's people to push you every single day," he said. "I like playing here because we play as a team in the back. We're all willing to work and cover for each other. Organization is a huge factor on this team."
Meanwhile, Pantalione, who owns a stellar 517-43-18 overall record as NJCAA Division 1 Yavapai soccer's only coach, is on the cusp of achieving another personal milestone.
He needs only 18 more victories to become the junior college ranks' all-time winningest lead mentor. Former Ulster County (N.Y.) coach George Vizvary holds the record with 534 total wins in 37 seasons at the Division 3 level.
"I'm not overly concerned about it," Pantalione said of the coaching wins record. "It's not in the thought process because we'll have a successful season that will happen naturally."
More like this story