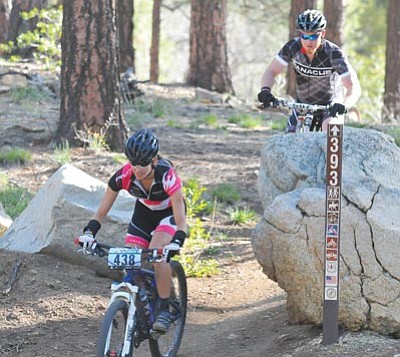 Originally Published: April 27, 2013 10:03 p.m.
When it comes to mountain biking, there's nothing like the local terrain, according to members of the Prescott College Mountain Biking club.
Club members Oakley Jackson, Bobby Treadwell, Zach King and Matt Kjwain are all students at the college. The group, made up of approximately 50 members, is in the process of forming an official team. The club formed only two months ago.
"It's the first sport team at Prescott College this year. It's never happened before," Jackson said. "We're not an official team yet. Right now we're just a college club, but we're working on it. Next fall we hope to be an official team; the first varsity team for Prescott College."
Jackson rode in the 25 mile Saturday during the Whiskey Off-Road Pro. He finished 10th in the event after two hours and 37 minutes of riding.
Treadwell rode the 50 single-speed event Saturday during the Whiskey Off-Road Pro, where he placed 20th. Treadwell, from New Hampshire, called the trails around Prescott "the best mountain biking" area he's ever encountered.
"The loops are endless. You can do 100-mile loops here easily," Treadwell said. "All of them are pretty good with a small number of riders on them. It's kind of like a hidden secret."
The Whiskey Off-Road course, he said, stayed clear of many of the area's popular mountain biking trails. The trail beginning at Lynx Lake is one of Treadwell's favorite local trails to ride.
"It pretty much circumnavigates Prescott. It goes almost all the way down to Skull Valley, then climbs some serious trails," Treadwell said.
When riding, club members strive to represent mountain bikers in the Prescott area in a positive light.
"When you see people walking or riding horses, be really friendly with them. Mountain bikers are supposed to yield to other people using the trails, because we're moving really fast and it could be dangerous," Treadwell said.
"Make yourself heard on the trail, which better than just zooming by and freaking them out," King said. "And say thank you."
King, who also competed in the 25-mile race, said his favorite local trail is in the Thumb Butte area.
"They're all so good, but in Thumb Butte you get a little bit of everything. There's some (technical) climbing. You can do fast, flowing, single-track. You can destroy yourself or go out for a leisure ride on the same trails," King said.
Other trails favored by the club include those off White Spar and Goldwater Lake roads.
Jackson, originally from Maine, said he didn't take up mountain biking until he moved to the Prescott area. Like King, his favorite riding trails can be found around Thumb Butte.
"Some of the best trails in the country are around here," he said. "There are a lot of good cross country trails around Thumb Butte. The diversity here is incredible. You can cruise through forest or be out in the open, like up by the Butte: rocky areas, boulders; there's a lot of diversity."
More like this story