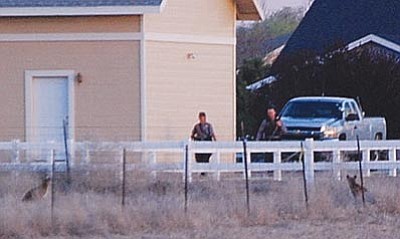 Originally Published: April 10, 2013 9:59 p.m.
CHINO VALLEY - Chuck Parknavy's two housecats were in a tizzy when they woke him up about 7 a.m. Saturday, and he soon learned why.
The cats were staring out the window at two other cats that could beat them any day in a fight: wild mountain lions.
Parknavy looked out the back window of his home along Talia Place in Chino Valley and saw one lion pacing back and forth about 400 feet from his house on his two-acre lot, while the other lion was on the other side of a fence along Road 4 North near his neighbor's sheep and turkeys.
Fearing that neighbors might walk their dogs nearby and be in danger, that the lions might eat his neighbor's livestock, or even that the lions could get hit by vehicles, Parknavy called the Chino Valley Police Department. The police then contacted the Arizona Game and Fish Department.
It wasn't long before about 20 neighbors gathered nearby to watch the lions, Parknavy said. Chino Valley and Yavapai County law enforcement officers also came to the scene.
When the first Game and Fish wildlife manager arrived, she asked the officers to help disperse the crowd since wild lions obviously can be dangerous.
"It was becoming a public safety risk," said Zen Mocarski, Game and Fish information officer for this region.
Game and Fish wildlife managers also went door-to-door in the area to alert residents about the lions, Mocarski said.
One lion was a female and the other was her sub-adult offspring, about 1-2 years old.
The wildlife managers decided it was too much of a risk to chase the lions in the residential neighborhood, so their best action was to monitor the lions and hope they left the area, Mocarski related.
Three wildlife managers waited until about 6 p.m., then decided to try to herd the lions out of the area with their vehicles before it got dark.
They finally were able to steer the young lion through an open gate to its mother, then herd them both through more open gates until they headed toward a ranch to the northeast, Mocarski said. Game and Fish wildlife managers alerted the rancher that the lions were in the area.
"I think it's a statement to the dedication of several wildlife managers that they didn't want these lions to end up in a situation where they had to kill them," Mocarski said. "This happens more often than people know."
The wildlife officers let the lions go because they didn't see any signs of the lions being habituated to people, Mocarski said.
They haven't received any reports about the lions returning.
If the lions do return to the area, the agency might have to lethally remove them, he added.
Parknavy, who contacted The Daily Courier about the incident, was glad to hear Wednesday that the lions got away safely.
"I just wanted to make people aware that there are wild animals here, and not to get gun happy," Parknavy said.
Central Yavapai County is prime lion country, Mocarski noted. Game and Fish roughly estimates that Arizona is home to 2,500 lions.
Last year, Game and Fish received 389 calls about lion sightings around Arizona, including 49 in Yavapai County. The agency got one report of a lion attack on a horse, but it turned out to be a dog attack, Mocarski said.
Statistics that Game and Fish gathered about the U.S. and Canada showed 20 fatal lion attacks since 1890, but none in Arizona. The chart lists 88 non-fatal attacks including two in Arizona.