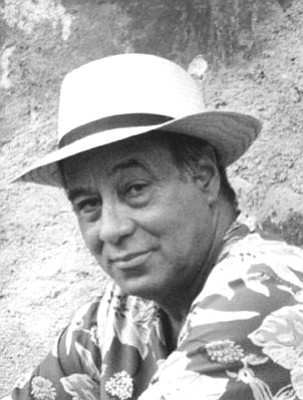 Originally Published: September 20, 2012 9:45 p.m.
The fall season of the Literary Southwest series begins at 7 tonight with two writers who imbue their work with personal history and experience: poet Richard Garcia and mystery writer Naomi Hirahara.
The readings takes place in Yavapai College Library's Susan N. Webb Community Room, building 19, room 147, on the Prescott campus, 1100 E. Sheldon St. A book signing and a question-and-answer session will follow the readings. All Literary Southwest programs are free to the public.
Garcia is the author of three books of poetry, "The Flying Garcias," "Rancho Notorious," and "The Persistence of Objects," as well as a bilingual children's book, "My Aunt Otilio's Spirits."
His work has been published in many journals and anthologies, including "The Best of the Prose Poem" and "Best American Poetry 2005." Garcia has won a fellowship from the National Endowment for the Arts, a Pushcart Prize, the Mudfish Prize from Mudfish Magazine and the Georgetown Prize from the Georgetown Review. His manuscript, "The Other Odyssey," was the 2012 winner of The American Poetry Journal book prize and will be published in the fall of 2013.
Garcia teaches at the Antioch low-residency MFA program in Los Angeles and privately online. He lives in South Carolina.
Hirahara, a native of Pasadena, Calif., received her bachelor's degree from Stanford University and also studied at the Inter-University Center for Advanced Japanese Language Studies in Tokyo. She was a reporter for and editor of a Los Angeles-based bilingual Japanese-American daily newspaper and has written and edited non-fiction books related to the Japanese-American experience.
However, Hirahara is probably best known for her mystery novels featuring Japanese-American gardener (and Hiroshima survivor) Mas Arai. "Summer of the Big Bachi," published in 2004, was the first of the series and was a finalist for Barbara Kingsolver's Bellwether Prize. This book was followed by "Gasa-Gasa Girl" and "Snakeskin Shamisen," which won an Edgar Allen Poe Award in the category of Best Paperback Original. The fourth Mas Arai mystery, "Blood Hina, came out in 2010.
Hirahara lives in southern California.
For complete author and series information, visit www.yc.edu/hassayampa or call series director Jim Natal through Yavapai College at 776-2295 or via email at james.natal@yc.edu.
More like this story