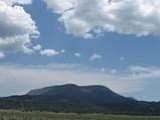 Originally Published: September 3, 2012 9:50 p.m.
Aldo Leopold worked for the new federal Forest Service in New Mexico and Arizona. When he saw a wolf with pups, he shot it. That's what you did with wolves then. He saw the fire of life go out in the wolf's eyes and wondered, from then on, about the sense of such killing. He thought about the changing seasons and the destruction of natural, healthy cycles that followed the end of the predators, describing these thoughts as "thinking like a mountain." Yet, mountains do not think. The Maker of Mountains does though. Thinking like the Mountain Maker involves taking pleasure in the mountains without taking from the mountains the resources there in an unsustainable way. Trail 308, a National Trail, displays quite a bit to enjoy and keep around for our kids, from noisy aspens to brilliant weeds. The views of the White Mountains involve 360 degrees of forests, meadows, towns, blue sky, puffy clouds, and black stumps.
The three mile trail begins in a grove of aspens, rattling in the wind. They quiet the soul, encouraging us to listen to the life around us. After about a mile, the trail breaks through the trees into a flower-filled meadow. The views to the west, and Mt. Baldy open up, shouting freedom, freshness, and a feeling of being alive. At your feet, you'll find purple spiderwort, blue dayflowers, daisies, four o'clock, mountain parsley, sandwort, beardtongue, and much more.
Continuing north, across the meadow, you'll enter a different world, black with a great number of burned stumps. Bark hangs in the wind. It's cold and lifeless. Not so fast. It's not dead at all. Fireweed, aspens, dandelions, and more are springing to life. The land responds with vigor to this "cleaning" process. Removing 100 years of clutter is not the end of the story. When the clutter is removed, the soil waits to release its store of seeds and nutrients. What's it waiting for? Rain! The delivery of monsoon moisture and warm sunshine combine to create a glorious display of summer wildflowers. The cycle of fire is natural. Some species would no longer survive if not for an occasional disturbance like fire or flood. One species' disaster is another's life blood and hope for a future. It's not the end of the story. It's a new chapter.
Another meadow is soon reached and the junction with Trail 119. The final section of Trail 308 leads to the summit where the former lookout tower stands like a ghostly skeleton, having given its life to sound the alarm that fire has finally come. The growth of new aspens is especially vibrant here. The views are a bit obscured by tree stumps in some directions, as the summit is rather flat. The mix of joy and sadness is palpable. Yet there is confidence in the future. The land is alive. It has not given up. It is patient, resilient, hopeful.
Return the same way, retracing your steps from the black scars of death to the shimmering leaves of light and life. It's a glorious journey. I am sure you will enjoy it all and remember it for the rest of your life: six miles that will stay with you forever, calling you to return to refresh your memory as well as your soul.
It's interesting that the Forest Service claims this is the third highest summit in AZ, yet it comes in at number five with two peaks in the San Francisco Peaks north of Flagstaff above 12,000 feet and Mt. Baldy not far to the west above 11,000 feet. Then there's Webb Peak in the Pinaleno Mtns. southwest of Safford, which rises to 11,000 feet. No matter, since no one is keeping score. The summit is below 10,900.
Topo Maps: Escudilla Mtn. & Nutrioso quads 7.5' Administration: Apache / Sitgreaves National Forest
Getting to Escudilla is relatively straight forward. Take US 191 5.5 miles north of Alpine or about 19 miles south of Eagar/Springerville to Forest Road 8056. This road is suitable for passenger cars to the trailhead some 4.9 miles distant. At mile 1.9 the Forest Road turns right and becomes Road 56. Another 2.7 miles takes you to a split (Terry Flat). Go left 0.3 miles to the trailhead. For a National Trail, the signage at the trailhead is very poor. There is nothing there to indicate you are at Trail 308. There is very little parking.
One tree and three wildflowers are herein described. They are remarkable for their stately beauty. Two, aspen and fireweed are notable for their tenacious response to fire. This would be a phenomenal hike in the fall. Happy hiking!
Fireweed, Chamerion angustifolium (Evening Primrose Family)
Weed? What makes a plant a weed? Any plant out of place is thought of as weedy. That's not so much the case here, however. It's more about a rapid response to disturbance, which is a common characteristic of weeds, that got Fireweed such a reputation. The disturbance in the case of Fireweed is the other part of its name. Fireweed shows up in force after a fire. That is certainly the case on Escudilla Mountain, since the Wallow Fire last year. There is a veritable carpet of Fireweed covering the ground between burned out stumps on the summit. Such a beautiful weed too! Standing about half a meter tall, Fireweed displays a series of purplish-pink flowers at the end of its central stem, above a series of light green leaves. Each leaf is about 10 cm long. Fireweed is an opportunist, sometimes called a ruderal by ecologists. This lovely perennial also grows in cool, moist forests above 8,000' where there has been no recent disturbance, but then it only shows up here or there. Disturbance shifts the balance to make Fireweed abundant instead of spotty in its occurrence. Other kinds of disturbance also foster Fireweed establishment such as a flood or the things people build like roads and trails. Fireweed is just one example of a positive outcome following a "negative" event. Fireweed is a good reminder that negative events are not all negative.
Dayflower, Commelina dianthifolia (Spiderwort Family)
Dayflower is truly one of the treasures of mountain meadow hiking. The bright blue petals, three of them, smile up at you, face to face. Laughter may follow the exchange of smiles, as you consider its peaceful beauty. The blue is so pure and clear like a child's eyes or a pristine alpine lake. Not large, the flower measures only about 3 cm across. This only reinforces its demure nature. It stands to about half your knee in height. It also likes the sun, characteristic of open meadows. This adds even more cheer to its sunny disposition. With so many white and yellow flowers across the landscape, the bright blue Dayflower is sure to get your attention and it should. Like other monocots, its leaves are grass-like. With monocots being so much less common than dicots, accurate identification is much easier than most other wildflowers. Therefore, Dayflower offers instant gratification as an easy to identify, beautiful, high country wildflower in the Southwest.
Quaking Aspen, Populus tremuloides (Willow Family)
Why do Aspens quake? The proximal answer is that the petiole, or leaf stalk supporting each blade is flat like a knife blade. It is not round like other petioles. Therefore, it moves at the slightest breeze, making the leaf flutter or tremble. They sound so incredible like a gentle applause. But, what about the distal answer to this question of, "Why tremble at all?" In other words, what's the ultimate reason for the petiole being flat like a knife? Round is the norm. Is there some evolutionary advantage to having a flat petiole, which just happens to move easily in the wind? Another question to consider when standing in a grove of Aspens is, how many Aspens are there in that grove? Dozens? Hundreds? One? More likely than not, there are few, perhaps only one. Aspens grow like Bermuda Grass. It sends up runners all over the place. Each tree you see is a clone of its neighbor, being connected underground. That feature helps it respond quickly to fire. It is ready to grow back, since it never left. With the canopy gone, there is plenty of light and that's very good for Aspens. Suppress fires long enough and Aspens will disappear from the landscape. That would be a shame, an even greater shame than the devastation of a forest fire. Aspens are widespread across North America. In the Southwest, they grow in sunny places above 7,000 feet where the conifers have not shaded them out. Thanks to the Wallow Fire, Aspens will continue to glorify the land for generations to come. It will take some time for the summit aspens to stand tall like the ones at the trailhead, but now you and I can enjoy the best of both worlds, golden towers at the trailhead and a golden carpet at the summit.
Spiderwort, Tradescantia pinetorum (Spiderwort Family)
Spiderwort, is a close relative of Dayflower. They are classified as being part of the same plant family, but in different genera. Therefore, expect quite a few similarities. Spiderwort, too has three prominent petals, though they are purple instead of blue. The leaves are grass-like once again, but twice as long, about 30 cm. Spiderwort is also generally taller than Dayflower, two-thirds of a meter. They grow in similar habitats, sunny, open slopes, though Spiderwort is more widespread than Dayflower. Perhaps it only seems that way, since Dayflower is smaller. Spiderwort extends to lower elevations, as low as 3,000 feet while Dayflower rarely grows below 4,000. Spiderwort, seems less restricted to moist sites, as is the case with Dayflower. On Escudilla, we have the opportunity to see both in the same spot, along with quite a few other summer beauties.