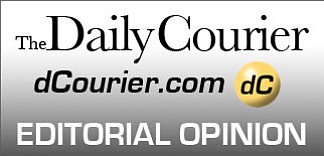 Originally Published: October 30, 2012 10 p.m.
The celebrations of "harvest" are well under way, just like the scary or benign Halloween events are in full swing and conclude today. Trick-or-treaters will be taking to the streets, observing this holiday of sorts tonight.
Halloween comes down to two things: safety and courtesy.
Local law enforcement officials caution that parents should make sure: children's costumes allow for good visibility - to see and be seen; trick-or-treaters are careful around fire or other heat sources - carry a flashlight; props, such as swords or such, are not real - never carry real weapons and do not point these toys at anyone; candy gets checked for tampering before eating; and, that activities are safe - sponsored events and trick-or-treating should be supervised.
Most common are car-versus-pedestrian accidents on Halloween. From 4 p.m. through 10 p.m. on Oct. 31, among children aged 5-14 years, an average of four deaths occur on Halloween during these hours each year, compared with an average of one death during these hours on every other day of the year, according to the Fatal Analysis Reporting System of the National Highway Traffic Safety Administration.
"Because of the levels of participation in Halloween-related activities by elementary and middle school-aged children, these children might be more likely to sustain pedestrian injuries on that evening than on other evenings," the National Center for Injury Prevention and Control's report states.
Stated a different way, statistically the number of childhood pedestrian deaths increases four-fold on Halloween evenings when compared with all other evenings.
Have a happy Halloween - seek your treats safely and, adults, drive even more cautiously.
As for the courtesy, adults, be sure your children say "thank you" after they receive their treats. A common rumor is that the City of Prescott provides homeowners on Mt. Vernon with candy to distribute. It is not true.
Residents providing treats to the little ghouls, witches and pirates do so out of their own generosity. A kind "thank you" goes a long way.