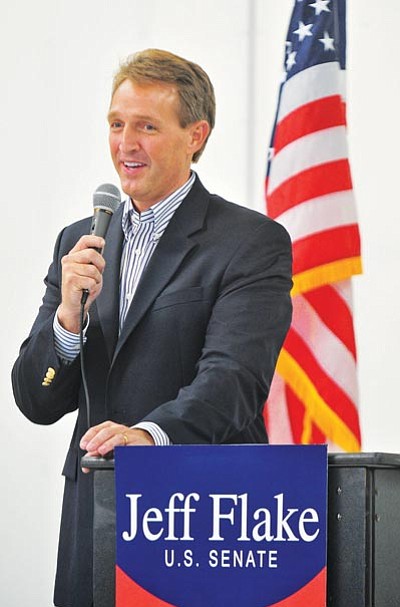 Originally Published: October 27, 2012 10:11 p.m.
When Kristi Charbeneau told her teenage son Zack Zertuche that U.S. Senate candidate Jeff Flake would be speaking Saturday at a rally in Prescott, he told her he wanted to go and she said he made sure they headed out on time.
"I also wanted to see John McCain," Zack said.
Jeff Gerlak also brought his teenage son Cody Gerlak so they could listen to Flake.
About 250 people, at least 50 of them veterans, attended the rally for Flake at Legend Aviation where U.S. Sen. John McCain and U.S. Sen. Jon Kyl also spoke.
"We just want to listen and see what Flake has to say," said Melinda Webb, an audience member.
Flake is running against Democrat Richard Carmona in the Nov. 6 general election.
Before the rally, audience member Malcolm Barrett said, "Flake has been more supportive of our veterans than anyone else in our delegation."
Flake told those attending the rally that his father is a Korean War veteran and his brother is in the military and has just served his fourth tour - two in Afghanistan and two in Iraq.
"I will never deny our veterans or the military what is needed," Flake said. "The priority of the federal government - the first and primary function - is to protect us from attack. We need to make sure our veterans are taken care of."
Sandy Lundgren, an audience member, said she and her husband were at the rally to support Flake and they appreciate his fiscal responsibility.
"I have seen Jeff Flake do what is probably one of the hardest things you can do in Washington D.C. and that is when he believed he was right, he stood up against the leaders of his own party," McCain said.
McCain said Flake stood up against Congress leaders who engaged in earmarking, attaching projects neither needed nor wanted to be paid with tax dollars to bills to get them passed.
"While I was waging the battle in the House, he was waging the battle in the Senate," Flake said of McCain.
Flake said when he was getting flack for fighting earmarks, he asked McCain what to do and McCain poked his finger in Flake's chest and said "Don't back down. They'll come around."
"This guy (Flake) stood up against the old bulls in his own party and they punished him," McCain said. "He still stood proud to end corruption and careless stewardship of America's tax dollars."
Andy Herrero, an audience member, said he was at the rally to see McCain.
Kyl, who decided to retire from the Senate, said he was honored to work for the people of Arizona for the past 26 years.
"There's no greater honor than representing other people in public service," Kyl said. "You can imagine how it's personal to me who takes my place. I've tried to work hard, and I've accomplished some things, but we have a lot more to accomplish. And I don't want to see that turned over to someone who's going to go the exact opposite way, who's going to cancel out John's votes."
Kyl encouraged people to talk to friends, family and neighbors and remind them to vote.