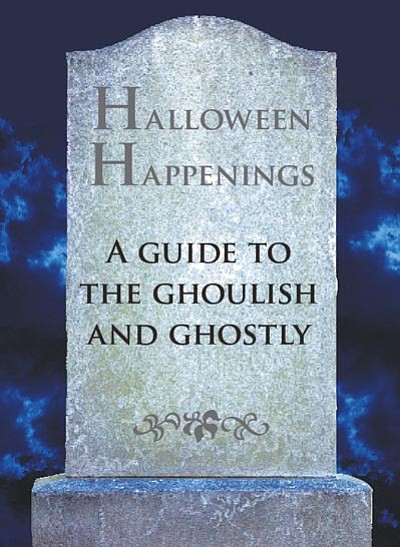 Originally Published: October 25, 2012 8:25 p.m.
Following is a list of haunted happenings during the Halloween season in Prescott:
• Friday-Sunday, Oct. 26-28, and Wednesday, Oct. 31 - Mortimer Family Farms Pumpkin Festival at the corner of highways 69 and 169 in Dewey features a haunted corn maze, the spirit of original homesteader King Woolsey, pumpkin catapult contest, barn dance, etc. Call 830-1116 or go to mortimerfamilyfarms.com for details and costs.
• Friday, Oct. 26, 6 p.m. - Halloween Happening at Highlands Center for Natural History, 1375 Walker Road near Prescott. Features creepy-crawly wildlife, stories around the campfire, pumpkin carving, bat cave and raccoons' night out. Costumes encouraged. Admission $5 or $2 for kids younger than 13.
• Friday, Oct. 26, 7 p.m. - Friday Night Fright Fest at Elks Opera House, 117 E. Gurley St. in Prescott. Double-feature movies with original "Frankenstein" alongside Mel Brooks' comedy "Young Frankenstein." Tickets $10. Costumes encouraged.
• Friday and Saturday, Oct. 26-27, at 6 and 7:30 p.m. - Prescott Ghost Talk at Prescott Center for the Arts, 208 N. Marina St. Actors bring local ghost stories to life in spooky atmosphere. Tickets $12 via 445-3286 or pca-az.net.
• Saturday and Sunday, Oct. 27-28, 9 a.m.-5 p.m. - Freeman Farms Pumpkin Festival at 1096 E. Road 3 South in Chino Valley features a pumpkin patch, hay rides, corn maze, merry-go-round, kids' train, petting zoo and live shows featuring Old West characters, dogs and horses. Call 636-5714 or go to azpumpkins.com for prices and details.
• Saturday, Oct. 27, 11 a.m.-3:30 p.m. - Prescott Pumpkin Patch & Carnival at Yavapai County Courthouse Plaza in downtown Prescott. Costume contests, games, rides and pumpkin carving. All-day rides and games admission is $5.
• Sunday, Oct. 28, 10 a.m.-4 p.m. - Day of the Dead Celebration at Smoki Museum, 147 N. Arizona Ave. in Prescott. Featuring Mariachi Lucerna, Ballet Folklorico Sol de Mexico, traditional foods, margaritas, Dia de los Muertos altars, procession to Citizens' Cemetery, children's crafts. Free. Altars on display now through Thursday, Nov. 1.
• Tuesday, Oct. 30, 10 a.m. - Trick or Treat for the little ones at the Prescott Public Library, 215 E. Goodwin St. Preschool children can hear stories and participate in finger plays, songs and costume parade. Trick-or-treaters get non-edible treats at library desks. 777-1537
• Wednesday, Oct. 31, 6-9 p.m. - Boo at the Zoo at the Heritage Park Zoological Sanctuary, 1403 Heritage Park Road in Prescott. Trick or treat while seeing the zoo's nocturnal wild animals. Admission $5 non-members, $3 members, free for children younger than 3.
• Wednesday, Oct. 31, 6:30 p.m. - Prescott Film Festival presents "Phantom of the Opera" silent film with live piano music by Jonathan Best at Yavapai College Performing Arts Center, 1100 E. Sheldon St. Admission: $5.
• Wednesday, Oct. 31, 1:30-3:30 p.m. - Teen Haunted House for grades 6-12 at Prescott Public Library, 215 E. Goodwin St. Costumes encouraged. 777-1537.
• Wednesday, Oct. 31, at dusk: trick-or-treating on Mt. Vernon.
• Wednesday, Oct. 31, 5-8 p.m. - Safe Halloween Trick or Treat at the Prescott Valley Library with PV Early Bird Lions Club. Kids also can bring carved pumpkins for a contest. 772-8857.
• Wednesday, Oct. 31, 6-9 p.m. - Halloween Village at Chino Valley's Community Center Park. The town invites children to trick-or-treat, play carnival games and enjoy decorated displays. The first 500 through the gate get free trick-or-treat bags.
• Wednesday, Oct. 31, 4-7 p.m. - Mall-O-Ween celebration at the Prescott Gateway Mall. Trick-or-treating for kids at stores with orange and blue pumpkins in their windows. Monster Mash performance by Arizona Dreams Gymnastics at 5 p.m. in the JC Penney Court, followed by "Thriller" dance performances at 6 and 7 p.m. First 500 children with a canned food donation get an extra bag of candy.