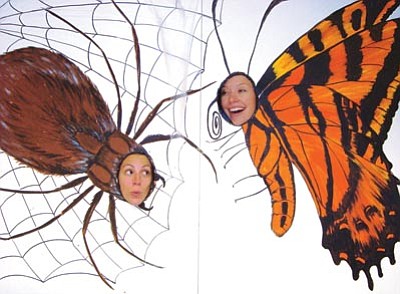 Originally Published: October 24, 2012 9:57 p.m.
PRESCOTT - The Highlands Center for Natural History is celebrating the Halloween season at 6 p.m. Friday with its "Halloween Happening" that features a Howl-o-ween Trail where children can meet wildlife, hear campfire stories and create Jack O'Lanterns.
The Howl-o-ween trail takes guests through several interactive activities such as Raccoon's Night Out. This station gives participants a riddle to decode, then the opportunity to use their sense of touch, as the raccoon does, to uncover cool and unusual nature items.
The trail ends at the Bat Cave. This is another interactive activity where kids can discover the answers to mysteriously batty questions. Don't worry, there are no live bats inside.
Lighted pathways lead up to the campfire. Here visitors can warm up and make s'mores or drink hot cocoa while listening to fables ranging from ancient American Indian tales to clever, thought-provoking stories.
Inside the classroom, everyone can try their hand at dissecting owl pellets at the Owl Puke Station.
The Heritage Park Zoological Sanctuary will bring live birds, reptiles, amphibians, and mammals. Guests can meet each one and learn something new about nocturnal mammals or the hibernating behaviors of reptiles.
Also available in the classroom is face painting, and a photo booth.
Trader Joe's has donated a handful of carving pumpkins this year that third- and fourth-grade Skyview School students will carve for display along the walkway. Visitors can try their hand at decorating their own pumpkins with creative and unusual items.
Costumes are encouraged, though the night will be chilly, so it would be best to be dressed in warm layers.
Admission is $2 for children and $5 for those age 14 and older.
Call the center at 776-9550 for more information or visit its website at highlandscenter.org.
The center is located in the Prescott National Forest, 2 miles south of Highway 69 at Costco; the address is 1375 S. Walker Rd.
The Highlands Center for Natural History's mission is to help children and adults discover the wonders of nature through outdoor programs based on observation and discovery of the Central Arizona Highlands.