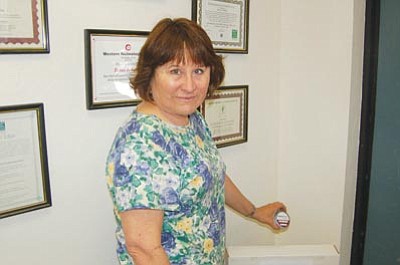 Originally Published: October 18, 2012 9:58 p.m.
Some home buyers might like the natural settings that granite outcroppings provide in the greater Prescott area.
However, granite contains radium, which releases radon gas, said Toby Frost, manager of environmental services for Western Technologies Inc. in Prescott.
Area residents are more likely to face exposure to radon if they live in the Granite Dells and other areas with granite formations.
However, Frost said, "It is certainly not as bad here as other areas." She added radon is more widespread in Pennsylvania.
Radon is the number one cause of lung cancer among nonsmokers, according to estimates from the U.S. Environmental Protection Agency. Radon is responsible for about 21,000 lung cancer deaths every year, and about 2,900 of those deaths occur among people who never have smoked.
Federal Radon Action Week, which concludes Sunday, draws attention to the health hazards that radon poses. It is a naturally occurring, odorless radioactive gas.
Reports of radon exposure in the quad-city area are few and far between, Frost and others said. However, she agrees with advice from the EPA and surgeon general to test a home for radon if it has not been tested over the past two years.
Frost said she uses an absorptive charcoal canister to take air samples from inside a home. She retrieves the samples in three days, and sends them by overnight mail to an EPA-certified, independent lab in Jonestown, Pa.
"I do it quite a bit for real estate deals," Frost said. "When someone is purchasing a home, they often get it checked. I probably do about three a month."
Frost said perhaps every couple of months she finds a sample that exceeds the federal standard of 4 picocuries per liter of air. She said the worst count she has found has been as high as 20 to 40 picocuries per liter.
However, because there is no known safe level of exposure to radon, the EPA recommends Americans consider fixing their homes for radon levels between 2 and 4 picocuries per liter, the EPA's website states. The average radon concentration in the indoor air of American homes is about 1.3 picocuries per liter.
A "very small percentage" of home buyers have homes that test positive for radon gas, said Pete Weaver, treasurer and president-elect of the Prescott Area Association of Realtors.
"That has been my experience working here for 10 years," Weaver said.
He said he supplies a buyers' advisory that provides a variety of information, including the need for inspections.
"The best thing to do is consult the experts," Weaver said.
Home inspector Randy West, who writes a weekly column for the real estate section of The Daily Courier, said he became EPA-listed in the 1990s to do radon inspections and mitigation (to remove the potential threat).
"I guess I probably did 250 radon tests in different homes, all in Prescott," he said. He estimated that 10 locations tested positively for radon, and all were in the Granite Dells area or Haisley Homestead subdivision south of Prescott.
"I actually installed two mitigation systems in the Prescott area," West said. "It was covering the entire crawl space with a very high-quality plastic."
The mitigation measure also involved installing fans and a pipe that carried the radon gas to the roof of a home.
"I only found radon in homes with concrete-slab floors," he said. "Because if you got a crawl space under a home, (the building) code requires ventilation control, and that ventilation is enough to get rid of radon gas."
West, who has been a home inspector since January 1993, said he stopped doing the radon inspections two years later because he had a busy schedule with home inspections and "people stopped asking for tests."
West said he now refers clients to Frost of Western Technologies.
Frost said remediation contractors install fans under a home that draw the air out before radon gas has a chance to seep through the house.
The building permit process also provides potential protection against exposure to radon gas, according to Steve Mauk, director of Yavapai County Development Services.
"If we have soil conditions that we think are indicative of a radon issue, we would require that the home be built in such a fashion that those issues are addressed," Mauk said.