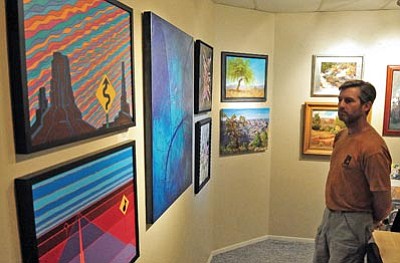 Originally Published: October 6, 2012 12:01 a.m.
Rather than just view artwork on display, visitors to the 5th annual Prescott Area Artists' Studio Tour get a chance to experience the artists' passion.
Chino Valley artist Bonnie Casey said one visitor to the Mountain Artists Guild Gallery on Friday asked to try her hand at putting a few strokes on the landscape oil that she was working on.
So, Casey said, she handed her a brush and let her have a go at it.
Casey is one of 60 artists taking part in the tour across 32 locations in the Prescott and Chino Valley areas. The tour continues today and Sunday from 10 a.m. to 4 p.m. Comprehensive studio tour guides with detailed maps are available at the MAG Gallery, 228 N. Alarcon St., Prescott, and at businesses in the quad-city area. Information is also available by calling the guild at 445-2510 or by visiting www.prescottstudiotour.com.
Casey and other artists are demonstrating their work so that tour visitors can see them create first-hand. Casey, who was painting a Flagstaff fall scene from a photograph, likes to back away from her canvas as her vision for a painting emerges. She does this so she "can see the whole come together - the whole idea, not just part of the idea" that she sees when she stands directly in front of the canvas.
And she communicates with her canvas.
"I like the painting to tell me where it wants to go. I let it talk to me," she said.
Another Chino Valley artist, Judy Lewis, focuses on miniature oil paintings. On Friday, she was painting a vase filled with lilacs on a 4- by 6-inch canvas and showed off a 1-1/2-by 3-inch painting of a Victorian lady. Surrounding her were other works that illustrate her representational style - realistic with some impressionism mixed in, she explained.
Artists live to create, she said. "If you are a true artist, it doesn't matter if you sell or not. You're going to do it anyway."
She said she will go into her studio to put a pencil away and "three hours later, I'm still there and have to be searched for."
Landscapes are Prescott artist Linda Umphrey's favorite subject to paint, she said, as she worked on a snow scene in oil in the MAG Gallery. "I like Southwest colors. You can put in oranges and reds. It's a warm landscape."
Animals - tigers, leopards, horses and elephants - are Corinne Dell'Aria's specialty in pastels.
"I'm just an animal lover," she said. "I can be more honest painting animals than when I am doing people portraits. (Animals) don't care what they look like."
Sharon Cunningham of Prescott Valley sat at a table with an array of her jewelry in front of her - all her own design. "Each piece is a unique design, made from the collaging of various materials, pieces of jewelry taken apart, beading and weaving," she said. She searches thrift stores for jewelry, takes it apart and creates a new design.
Rochelle Petersson and Carol Balzarini, both of Prescott, were also set up with their artwork in a corner of the MAG Gallery.
Peterson's medium is acrylics and she paints animals, plants, flowers and landscapes. "I paint what is beautiful to me."
Peterson, a retired interior designer, had put her painting away for 50 years, she said. "I found another passion (with interior design). (But) I realized that if I didn't pick it up again, it would be painful. I would have too many regrets."
Balzarini specializes in fiber art, which has come a long way from the needlework "our mothers did," in wool and cotton threads. Today, she can stitch Southwest designs or adaptations of quilt patterns, for example, in variegated threads, silk, textured fibers and metallic fibers among the incredible possibilities available in thread today.
"I call it painting with thread or fiber," she said.
Art fan Jennifer Davis happened through a part of the gallery, brochure in hand. "It's impressive," she said of the tour. "I (mistakenly) thought we could do it in just a couple of hours." She added she looked forward to seeing more over the weekend. "It's definitely worth checking out."