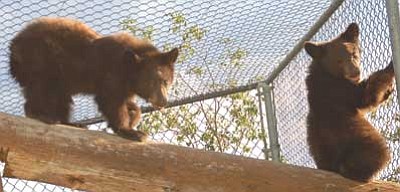 Originally Published: October 1, 2012 12:01 a.m.
PRESCOTT - Two bear cubs are exploring their new home at the Heritage Park Zoological Sanctuary in Prescott, climbing around on tree trunks and causing a loud ruckus amongst the neighboring lemurs that appear to be wondering just where these black balls of fur came from.
An endangered Mexican gray wolf also is new to the zoo, where she will interact with the public for the first time.
All three were moved to public enclosures Friday, after spending their first few weeks in private while they became accustomed to their new location.
"I could sit here all day watching them, they're so cute," sanctuary Director Pam McLaren said Friday as she watched the female cub take its first dip in the enclosure's waterfall. "Their curiosity is very humorous."
The stories behind these new residents highlight the sanctuary's mission of conservation through education.
The 11-year-old female wolf has been an integral part of the effort to restore Mexican wolves to their native habitat in the Southwest after people hunted them to extinction. Many of her pups were released to the wild, McLaren said. Now the wolf is spayed and will spend her retirement in Prescott. Her previous home in the California Wolf Center at Julian was not open to the general public, so her caretakers never named her.
The cubs' mother was hit and killed by a vehicle along the Townsend-Winona Road in north Flagstaff on Labor Day Weekend. A motorist saw the cubs huddling next to their mother's body and called the Arizona Game and Fish Department, said Shelly Shepherd, the agency's public information and education officer in the Flagstaff region. The cubs ran up a tree when Game and Fish arrived. Wildlife managers tranquilized them, put them in cages and started looking for a place that could house them permanently.
It's the first time during her 10-year tenure in the Flag region that Shepherd has heard of a mother bear with cubs being killed by a vehicle, although bears have been hit and killed before and so have countless other animals in the region. Shepherd urges motorists to be on the lookout for animals crossing roads, especially during the early morning and sunset hours.
State and sanctuary officials all agreed that the cubs, which are four to six months old and weigh only about 25 pounds, would probably have perished in the wild. Although they were likely being weaned by their mother, they don't have foraging skills so experts said they probably would have starved or been killed by adult male bears or lions. So the sanctuary took them in.
"It is an opportunity to save those bears and educate the public about bears," Shepherd said.
The first days at the sanctuary were hard for the traumatized cubs, McLaren said.
"They were huddled in the corner for probably a week to 10 days," she said. "That was a huge life change for them." But now the sister and brother are less fearful and showing their personalities.
"The female is more bold," McLaren said. "He is kind of a scaredy cat. But both are getting used to their caretakers."
The cubs dig in the dirt, play on the huge logs in their enclosure, roll around large exercise balls and try to get the food out of the tiny holes in small balls where caretakers hide it.
At least one of the bears might end up at the Navajo Zoo in Window Rock soon. The Navajo Zoo's lone bear is reaching his twilight years, as is the sanctuary's 17-year-old Shash. Bears are solitary creatures after reaching 2 or 3 years of age, said Wayne Fischer, animal care manager at the sanctuary. And the sanctuary doesn't have the space to create two larger enclosures for mature bears. Shash would kill the cubs if they moved into his space, Fischer said.
The wolf moved in Friday with the sanctuary's other wolf, a male named Imado. His brother Tasai had to be euthanized recently after developing aggressive tumors between his nose and eyes that vets were unsuccessful in trying to remove, McLaren said. At least two of his captive siblings living at other sites had the same cancer, but the Mexican Gray Wolf Recovery Program has not found wolves in the wild with this problem, McLaren said.
Tasai was the dominant wolf over shy and elusive Imado, but now Imado might come out of his shell because the new female is quite docile, McLaren observed. After a few weeks in neighboring enclosures, Tasai and the female were curling up along their respective fences close to each other. This is the first time the sanctuary has been home to a male and female Mexican gray wolf, and they are more likely to bond than create a hierarchy, Fischer said.
The female spent much of her life alone. This is the largest enclosure she has ever seen, and she's getting meat for the first time in more than a year, Fischer said.
"It's going to be a good union for both of them," McLaren predicted.