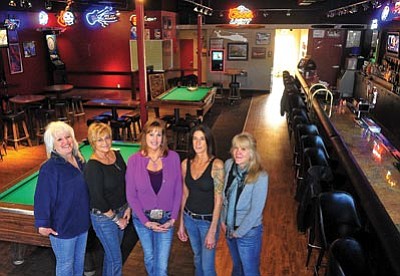 Originally Published: November 29, 2012 9:55 p.m.
Q&A with Connie Doherty-Kendall, owner of the Windsock Lounge, 1365 Iron Springs Road, Prescott. The bar opens daily at 10 a.m. 776-7309; www.thewindsocklounge.com
Q: What service do you provide in the community?
A: A nice, spacious, friendly neighborhood bar. Our draft beer has a glycol system connected to it to ensure ice-cold beer and cider. We have pool tables, darts, pinball, video games and seven HDTVs, and we offer the NFL Sunday Ticket. We also have live music every Friday and Saturday nights and karaoke on Sunday and Wednesday nights.
Q: How did you get into this business?
A: My parents (Cleo and the late Rich Doherty) built and operated "The Inn" in Ponderosa Plaza in 1977. When I graduated from Prescott High School (in 1979), I managed the bar for them for many years.
Q: What is the key to your business longevity?
A: I keep the business fun and upbeat and keep an open mind to the customers' ideas for music, karaoke, games, etc.
Q: What is the best business advice you've given and received?
A: My dad taught me to treat every customer like you would want to be treated and charge a fair price for drinks. The best advice I give my staff is to always have a smile on their faces and to treat every customer the same.
Q: What's unique about your business?
A: It is a nice, clean bar with the feel of a warm, cozy atmosphere. We have the largest bar parking lot in Prescott.
Q: What's something unique about you?
A: I opened up The Windsock over 20 years ago in the same shopping center just across the parking lot. I graduated from Prescott High and love being in business in my hometown.
Q: How many hours a week do you work?
A: If I am not at work physically, I am there mentally 24/7!
Q: If you could take a week away, what would you do?
A: I would love to be hanging out on the beaches of LaHaina, Maui.
More like this story