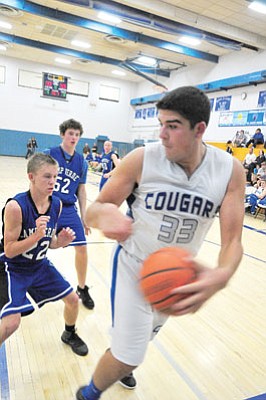 Originally Published: November 27, 2012 9:59 p.m.
It was an unconventional start, and an even stranger finish for the Chino Valley boys varsity basketball team at home Tuesday night, as they ended the night playing 4-on-5 basketball in a 53-30 loss to Camp Verde.
Starting the game with only five varsity and one JV player after first-year coach James Acton benched three of his players for disciplinary reasons, the Cougars were first on the board, when Cole Padilla scored only seconds after the opening tip-off.
Camp Verde's Justin Reay immediately answered back, but that was all the offense either team saw for the rest of the quarter. Acton put into play a seldom seen stall offense, where his team passed the ball without shooting for the rest of the quarter.
Drawing shouts from both sides of the stands and frustrated looks from his own players, the strategy seemed to work, as both sides entered the second quarter tied 2-2.
"I did that because of the numbers. We just didn't have them," Acton said after the game. "We really only had five players suit up, along with one JV kid, (Patrick) Shephard. I just wanted to shorten the game and maybe open it up in the second half, but it didn't work out that way."
Acton benched three of his already slim varsity roster because the players had missed a recent practice.
"We're trying to build something here, and if you're trying to build something you need discipline," Acton said. "I don't know if they were trying to test me or what, but I'm not going to play kids if they don't come to practice. It's not fair to the other kids."
In another strange turn of events, starter James Sparkman and Acton exchanged words during halftime in the Cougar locker room, and Sparkman did not return for the second half.
"I think the specifics of that should stay in the locker room," Acton said. "I feel bad, but I'm not going to take that. He will not be returning."
Shephard, who played a full game on the JV squad earlier in the evening, suited up as the sixth man for the varsity contest and saw some playing time in the second period. League rules limit high school players to six total quarters in one day, so after he went four quarters in the night's earlier JV game, he played his allotted time before the varsity game was over.
The result was the Cougars having to play 4-on-5 for the entire fourth quarter.
"The guys we played showed a lot of heart, that's all I can ask of them and they made me proud," Acton said.
Offensively, Padilla led the Cougars with 20 points. Shephard had six, and Sparkman recorded one on a free throw before leaving the game.
This Friday's game against Mingus Union has been canceled because of a scheduling conflict.
Next up for the Cougars is a home game against Sedona Red Rock on Dec. 4 at 7 p.m.
Acton began his coaching career in 1985, earning state championship titles in 1996 and 1998 while coaching for Superior High School (2A division). He ranks second for the most wins in the state in the boys basketball with 629. Only Gary Ernst of Mountain View High has more wins with 754.
Matt Santos of the Chino Valley Review contributed to this report.