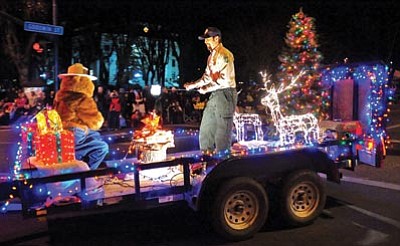 Originally Published: November 25, 2012 12:01 a.m.
PRESCOTT - The weather cooperated with the 17th annual Holiday Light Parade Saturday evening, which drew a very large crowd to kick off the season in Arizona's Christmas City.
This year, there were 26 entries, said Debbie Koch, who organized the parade for the Prescott Downtown Partnership.
One of the newcomers this year was Trader Joe's, who brought a surf-themed Christmas float, complete with surfboards and palm trees.
Trader Joe's has already done one parade this year, the Fourth of July parade, and they'll also be in the daytime Christmas parade, said Marco Delora, assistant manager of the store.
"There were about 15 of us (building the float) and about 20 hours' work," Delora said, "We're extremely excited to be doing this."
The parade began at the corner of Willis and Cortez Streets, circled the courthouse on Goodwin and Montezuma, and ended back at Willis.
Koch acted as both an organizer and a cheerleader as the parade was forming up.
She walked the entire route, thanking volunteers as she went.
"I have the most amazing bunch of volunteers, year after year, and that's what makes this thing tick," Koch said. "I am totally in awe of them."
It takes about six months to get the parade organized, she said.
As the 6 p.m. start time approached, Koch found that Mrs. Arizona was nowhere to be found. Koch began to notify the five parade announcers that things had changed, when suddenly a Prescott Fire Department ladder truck showed up unexpectedly; apparently, there was a mix-up in the paperwork.
Koch happily added the fire engine to the lineup just before the UniSource Energy float, which had to go last: As the primary sponsor of the event, UniSource had the privilege of carrying Santa Claus and his sleigh.
"So we lost one and we gained one," Koch said, with a smile.
Koch walked up to many of the float drivers as they headed onto Cortez, thanking them for participating and congratulating them on their decorating.
"Take your time and have fun," she said.
Things progressed smoothly for most of the parade. There was a minor glitch when a city solid waste truck's lights stopped working as it neared the start line and the crew had to stop to fix them.
Finally, Koch was able to slow down. "I don't know what to do," she said. "Nobody needs me."
She found her family on the courthouse plaza and watched the parade as it wrapped up.
More like this story