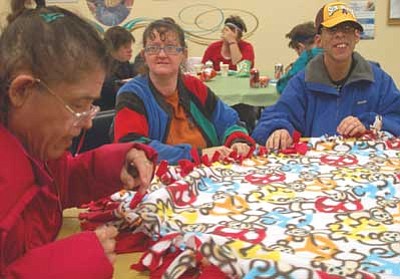 Originally Published: November 20, 2012 12:01 a.m.
PRESCOTT - As Tyson Webb made fleece baby blankets Thursday with his friends in the city of Prescott's Special Needs Activity Program (SNAP), he said he likes helping out.
"We want to keep the babies warm with these blankets," Webb said. "I like doing service projects with SNAP and my church and helping out people in the community."
Webb and other SNAP participants made 27 fleece baby blankets that will be donated to the Crisis Pregnancy Center then created holiday cards, and did beadwork and other crafts at their monthly craft night at the adult center.
After finishing their blanket, Edward Sanders and Peggy Neil, SNAP participants, talked excitedly about the talent show last week where they won first place and the bowling tournament coming up that weekend.
"SNAP is open to anyone with special needs no matter what their age," said Sherri Gates, new director of SNAP.
There is no fee to be a SNAP member, and the program offers monthly craft nights, bingo, dances, dinners, as well as weekly water aerobics, basketball, and other sports. About 85 members attend event, about 35 take part in water aerobics each week, and up to 250 attend dances, Gates said.
Keith Mason, a SNAP member, said, he enjoys the dances, craft night, and performing with the SNAP Signers. Rena, who asked that her last name not be used, said she bowled 103 the other day and "It takes practice."
"Some of my goals this year are to find grants, form relationships with businesses and other local nonprofits, and recruit more volunteers," said Gates.
"Action Graphics, a Prescott business, donated T-shirts for our Special Olympics athletes this year, and we really appreciate it," Gates said.
Right now, SNAP is seeking a sponsor for the Christmas Dance and about 250 gift cards in small amounts for participants, said Gates. Donations to SNAP, which is a nonprofit program, are tax deductible.
Gates said she started with SNAP four years ago as a volunteer.
"It's so rewarding," Gates said. "If someone volunteers just once, they'll fall in love with our program and participants just like I did."
SNAP members take part in the Granite Creek Cleanup each year, make items and donate them to local nonprofits throughout the year, and do many other community service projects, said Rick Hormann, sports supervisor of the City of Prescott.
"They don't ask to be given anything. They love to give back to the community," Hormann said. "It gives them strong sense of worth and self confidence. They're always eager to help."
Rita Guglielmi, a SNAP member, said she enjoyed making blankets for the babies, and knew their moms would appreciate something so soft to keep their little ones warm.
For more information about volunteering, sponsoring a dance or event, or donating please, call Sherri Gates at 777-1554. To learn more about upcoming SNAP events, go to the website www.cityofprescott.net, click on Parks and Recreation, click on program and events, then click on Special Needs.