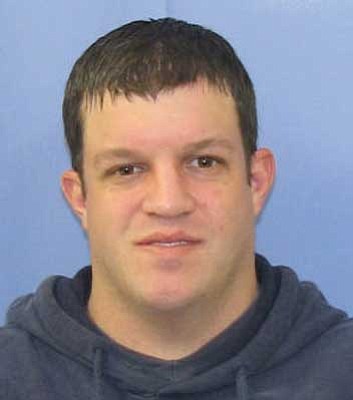 Originally Published: November 8, 2012 9:15 p.m.
Update: Update: Eric Tuttle was arrested Thursday afternoon in West Virginia, according to the Yavapai County Sheriff's Office.
SELIGMAN - Sheriff's detectives are looking for a man they say assaulted a woman and her 78-year-old father, then tied up the father, mother and daughter before taking their pickup truck and three dogs, a Sheriff's spokesman said.
Eric Stephen Tuttle, 39, is wanted on assault and robbery charges, said YCSO spokesman Dwight D'Evelyn. He was staying on a family's property in the Bridge Canyon Estates, but when the family asked him to leave he turned violent, D'Evelyn said.
On Tuesday at about 2 p.m., he reportedly assaulted a 54-year-old woman in a car, keeping her father from helping her by locking him out, D'Evelyn said.
When Tuttle got out, he allegedly attacked the man with a shovel, then turned on the woman with the shovel as well, D'Evelyn said.
Tuttle then allegedly moved the father and daughter, along with her 77-year-old mother, into a travel trailer, threatened to kill them and ordered them to sit together, D'Evelyn said. He had the daughter bind her parents' hands with duct tape, and then wrapped her hands.
He left in the family's white Dodge Ram pickup, license 432VXX, taking the family's three dogs with him.
Tuttle, who is also wanted on a parole violation out of Pennsylvania, is white, about 5'8", 155 pounds, with brown hair and brown eyes. D'Evelyn said he may be armed.
On Wednesday afternoon, there was a report that the stolen truck was spotted in Missouri. The driver wasn't positively identified but is believed to be Tuttle, D'Evelyn said.