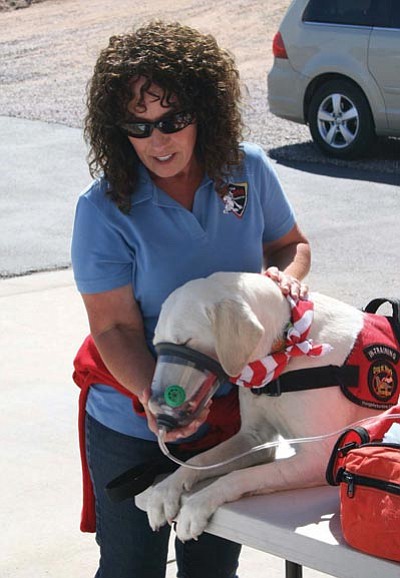 Originally Published: May 30, 2012 9:50 p.m.
The Fetch Foundation presented the Williamson Valley Fire District with a FIDO bag Sunday, then demonstrated on FEMA rescue dogs how items inside the bag can help animals injured in a fire.
WVFD received a grant from the Fetch Foundation, which provides lifesaving equipment for pets, said Williamson Valley Fire District Chief Bryan Smith.
The FIDO bag contains oxygen masks, splints, burn sheets, bandages, protective restraints, harnesses, and medications, all for pets, Smith said.
The cone-shaped oxygen masks will fit any pet's muzzle, allowing for a secure seal on the pet's face.
"These bags have been credited with saving several four-legged family members that had been injured in fires and accidents throughout Arizona," Smith said.
As part of the program, fire district personnel received in-depth training from a registered veterinarian, Smith said. 
The Fetch Foundation, a 501(c)(3) non-profit based in Scottsdale, provides fire departments throughout Arizona with equipment to help pets in emergency situations. For more information, visit www.thefetchfoundation.com.