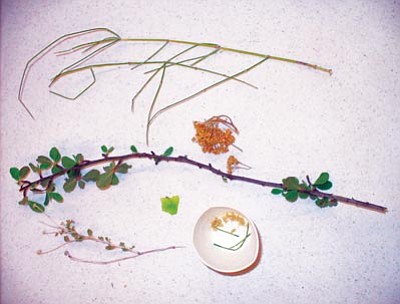 Originally Published: May 25, 2012 9:58 p.m.
Living in the harshness of the Southwest deserts and uplands called for a mastery of resources. Have you ever wondered what the indigenous people used for household remedies? Each season provided a new assortment of plants from which to choose.
The Apaches collected the roots of the Apache plume, that scraggly looking roadside shrub with pink feathery plumes that blooms several times over the summer. After digging out the root of the plant, they used it to make a poultice for soaking sore muscles. A mild tea from some of the powdered root proved effective for treating coughs and flatulence. The Hopi even made a hair tonic from strong tea, said to prevent thinning hair.
To eliminate "bad vibes," which could be interpreted to include "germs" and anything else that brought bad feelings, the Navajo and Pueblo people would collect the ripe, purple berries from the juniper tree. These were then added to the hot rocks in saunas or sweat lodges and filled the air with a pleasantly aromatic disinfectant. The same was achieved within the living quarters by burning bundles of juniper leaves, much like incense. Before meals, it was not unusual to chew on a few juniper berries to stimulate stomach acids.
Allergies drove people of upper elevations to seek one particular herbal aid even in the snow of winter. The plant is Mormon tea, which is found in lower elevations as well. Its use was so widespread that it goes by several other names, joint fir and desert tea being the most common. After gathering large bunches, they would break them at the joints and infuse in hot water to drink for relieving congestion.
Fungus infections were few and far between if a grove of the beautiful desert willow trees were close by. A handful of leaves and pink trumpet-shaped flowers, steeped as a tea, proved too much for yeast spores among native peoples and early settlers.
That is but a glimpse of the "forest pharmacy" that surrounds us. Watch the forest in the spring and early summer as it is often the perfect time to gather and dry flowers, stems and roots for your own medicine bag.
The Highlands Center is hosting "Nature's Medicine Cabinet" at 9 a.m. Saturday, June 2, when Diane Vaszily will reveal the plants you will want in your own backyard pharmacy.
Vaszily is tailoring this hands-on program specifically to include the medicinal plants of this area, and they will be considered from a pharmacological perspective.
Attendees will learn some of the fascinating history of local native plants, how they were used medicinally by early settlers and for years by Native Americans. Participants will also make their own soothing skin ointments and try a tea made from locally gathered wild plants.
After a video presentation, everyone will have the chance to wander the trails at the Center with Diane as their guide, to see what medicinal plants they can find, and learn to identify and become familiar with the plants in their natural habitat.
Diane has been presenting seminars and workshops for over 15 years in the Southwest. Her programs have been a part of Arizona's Paradise Valley Community College, the Desert Botanical Gardens, Southwest Institute of the Healing Arts, and at various hospitals, senior centers and cities throughout Arizona as well as in Florida.
The cost to attend is $35 for the public and $25 for members of the Highlands Center, which includes all materials. Pre-registration is required. To register, call the center at 776-9550 or visit the center's website, www.highlandscenter.org.
More like this story