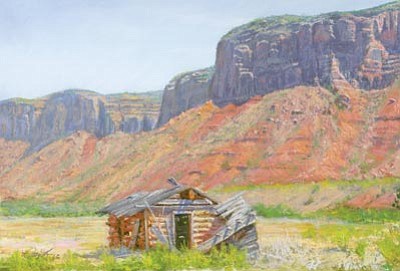 Originally Published: May 23, 2012 9:50 p.m.
Artist June Payne Hart seems an anomaly to the Western art scene.
She now lives in Sedona but was originally from Stratford-upon-Avon in England, where her mother worked for the Royal Shakespeare Theater. So, the famous bard "was a big thing in my life," she said.
But that didn't deter her from her own artistry, which she began dabbling in from the time she was 3 years old.
Her first subject was her "little pussycat," which she painted with thick green paint - the cat, that is. Then, "My mom gave me paper, which was much better than fur," she said. Today, she works mainly in acrylics, and animals - African and American - are still her favorite subjects, many of which she portrays from Out of Africa Wildlife Park in Camp Verde.
"I just have a feeling," she said
about her vision, flowing from her great love of animals, that comes to her when she stands in front of her easel. "Today, I feel like painting
bulls. I want to paint a wolf. I want to paint a tiger."
Hart will be among the many
juried artists who will set up their works in an open air gallery spreading across the courthouse plaza
this weekend for the 38th annual Phippen Museum's Annual Western Art Show and Sale.
The event takes place from 9 a.m. to 5 p.m. on Saturday and Sunday and from 9 a.m. to 3 p.m. on Monday. Admission to the show, sale and museum is free during the Memorial Day weekend.
Artists who will display their works cover the range of mediums, from oil, watercolor and acrylic to mixed media, pastels, sculpture and drawing. Some are well established, while others are up-and-coming.
A relatively new artist with a background in foundry work, Heather Johnson Beary struck out on her own in 2001 and will exhibit an 8-foot collared bronze lizard, a Hopi girl with a hummingbird and a dragon fly that is bound to attract attention.
"Lizards are hidden in the wings, so that it looks like filigree from a distance," she said.
Beary's inspiration comes from "finding patterns in the beauty of nature and seeing intricate details."
Earlier this week, Joe Robertson was "crankin' on art," getting ready for the Phippen show. He's been a participant since the late 1990s and says "it is absolutely the best art show of the year" for traditional and contemporary Western works.
His medium of choice is scratchboard etchings, which he embellishes with acrylics for color. His subjects are primarily Western images - cowboys, Native Americans and wildlife.
Robertson will show "a great big piece" depicting "a bobcat trying to figure out how he's going to get to these Gambel's quail surrounded by prickly pear cactus." He aptly named the piece "Sticky Situation."
Don Rantz will show his "very colorful, re-
alistic and authentic" Western landscapes inspired by "love of the Western landscape."
"I love the colors, the lights we have here and I do my best to portray it," he said of his work depicting scenery from all over the West." Some of his pastels are "very colorful," while others are "very muted," he said, adding, "I try to capture the light the way I see it."
Caroline Linscott, a watercolorist, finds inspiration "in everything" about the Southwest, its colors, its lighting, its nature, she said, deftly meeting the challenges of working in "temperamental watercolor," which dries quickly in the arid West.
Visitors to the show and sale will see Linscott's large floral paintings and her "whimsical, colorful animals of the Southwest," such as jackrabbits, bears, wolves and roadrunners.
With her children grown and the duties of children and family life behind, Linda Umphrey retired and devoted a room in her home to her artistry, painting Western landscapes, all with wildlife in their midst.
"I've had an easel in my kitchen for years," she said, but now she enjoys the separation of painting and cooking, she said.
Michael Pitts works in pen and ink, pencil and colored ink to paint "everything - whatever I see" and "possibly make a better presentation" of animals and wildlife by capturing "the action, the form, the shadow, the detail" in his creativity, he said.
For more information, call the museum at 778-1385 or visit www.phippenartmuseum.org.
More like this story