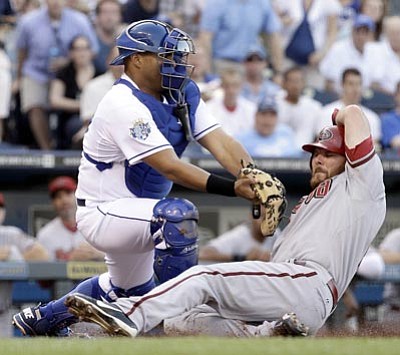 Originally Published: May 19, 2012 9:10 p.m.
KANSAS CITY, Mo. (AP) - Bruce Chen weaved his way into and out of trouble over the first four innings against Arizona. The Diamondbacks had eight base runners during that early span but couldn't get even one run across.
Chen won his third straight start with some help from Billy Butler and Mike Moustakas, who both homered, and the Kansas City Royals beat Arizona 7-3 Saturday night.
The game could have gotten out control early for Chen as the Diamondbacks had two base runners in each of the first four innings, including three innings with no outs. But the Diamondbacks went 1 for 9 with runners in scoring position in that span.
"He was working his magic," Royals catcher Brayan Pena said. "He came out of some pretty good jams."
Indeed he did.
"The first four innings it was very tough," Chen said. "I scrambled but my defense did a real good job. That's the only thing you can do is keep your composure and don't show your teammates that you are struggling."
The Diamondbacks' best chance to score early on came in the second, which Jason Kubel led off with a double before stopping at third on Paul Goldschmidt's single. After Chen struck out Cody Ransom, Ryan Roberts flied out to center and Jarrod Dyson threw out Kubel at the plate for an inning-ending double play.
"He did a great job of really minimizing the damage to the point where they couldn't score until the seventh inning," Royals manager Ned Yost said. "It's a sign of a veteran pitcher that can still keep his composure and make pitches when he needs to especially in crunch time and Bruce did that all night long."
Butler homered to left-center in the third with Alcides Escobar aboard. Butler also drove in Jarrod Dyson with a sacrifice fly in Kansas City's two-run fifth. Butler's eight home runs and 31 RBIs lead the Royals.
"It was a 2-0 fastball, basically a pitch out over the plate," Butler said. "He was trying to come in. Obviously, it's not a bad pitch if he gets it in there. In that situation, I'm looking for something out over the plate to drive. I got a good pitch to hit."
Moustakas sent his sixth homer of the season into the right-field bullpen in the fourth.
Chen was chased during Arizona's two-run seventh, giving up two runs on eight hits and two walks in 6 1-3 innings. In winning his past three starts, Chen has yielded six earned runs in 19 1-3 innings for a 2.79 ERA.
"That's a good offensive club over there and he was at 100 pitches on a hot night," Yost said.
"We didn't want to give them any footholds. We needs wins bad at home."
Diamondbacks right-hander Ian Kennedy (3-4) lost his fourth straight May start, giving up six runs on eight hits and a walk in 4 1-3 innings before being replaced by Mike Zagurski. In his past four starts, Kennedy has a 5.92 ERA, allowing 16 earned runs on 22 hits, including five home runs, in 24 1-3 innings.
"Kennedy got himself in bad counts and couldn't make a pitch to get out of it," Diamondbacks manager Kirk Gibson said. "Chen got into bad situations but he did a good job of getting out of it. He got behind and would throw a cutter or change and get out of it."
Goldschmidt and Roberts doubled for the first Arizona run. Willie Bloomquist singled home Roberts for the other Diamondbacks run of the inning.
Arizona added another run in the eighth against the Kansas City bullpen with Kubel's sacrifice fly scoring Justin Upton, who led off the inning with a single.
NOTES
Royals LHP Everett Teaford, who was scheduled to start Sunday, was placed on the 15-day list with a lower abdominal strain. RHP Nate Adcock was recalled from Triple-A Omaha and will start in Teaford's spot. The Diamondbacks will start rookie LHP Wade Miley. ... Royals C Salvador Perez, who had knee surgery during spring training, is taking batting practice and catching bullpen sessions. He will report next week to the Royals' complex in Surprise, Ariz. to continue his rehab. Manager Ned Yost said Perez is two weeks ahead of schedule. ... Royals IF Yuniesky Betancourt, who is in the disabled list with a sprained right ankle, will start a minor league rehab stint next week. ... RHP Trevor Bauer, the Diamondbacks' 2011 first-round draft pick, made an impressive Triple-A Reno debut Friday, allowing one run and four hits with one walk and 11 strikeouts in eight innings against Oklahoma City. In nine starts with Double-A Mobile and Reno, Bauer is a combined 8-1 with a 1.60 ERA with 71 strikeouts in 56 1/3 innings. ... The Royals improved to 5-16 at home. ... SS Stephen Drew, who has been out since fracturing his right ankle on July 20, is playing in extended spring training games in Arizona. "He'll stay in extended for a while," Diamondbacks manager Kirk Gibson said. "He's pretty sore."