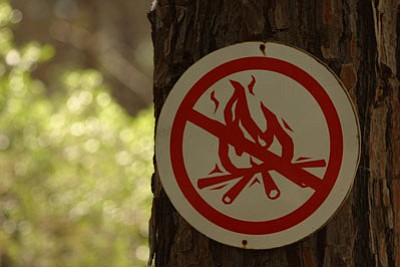 Originally Published: May 15, 2012 7:55 a.m.
Noting that firefighting resources are tied up in the Gladiator wildfire and others across the state, the Prescott, Coconino and Kaibab national forests announced Monday they will start fire restrictions by Tuesday and Wednesday, May 15-16.
"We don't need another fire to start accidentally," Prescott National Forest Supervisor Betty Mathews said. Restrictions start on the Prescott forest at noon today. Coconino and Kaibab will begin restrictions at 8 a.m. Wednesday.
Yavapai County and fire departments throughout the county are initiating fire restrictions, including all the fire districts and departments in the Prescott region. See fire department websites for details.
Campfires and other flames are banned outside paid campgrounds and picnic areas on the national forests. That ban includes free dispersed, marked campsites in the Prescott Basin. Camping is always banned outside marked sites. Smoking is limited to enclosed vehicles, buildings or developed campgrounds on the three national forests. Fireworks are never allowed on national forests.
The county is banning all open flames including tiki lamps, but allowing barbecue grills if they have covers. It's also banning the outdoor use of equipment that creates sparks or flames, such as welding equipment and chainsaws.
For information, call 877-864-6985 or go online to publiclands.org/firenews/Az.php.
More like this story