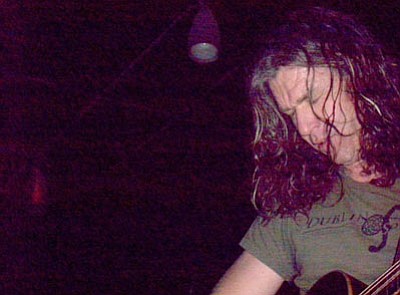 Originally Published: March 20, 2012 7:25 p.m.
What an epic St. Patrick's Day weekend it was! The weekend prior, at Annie's Attic, I found a new favorite. I was very happy to see him again last Friday at the Bird Cage. Karl Jones, singer/songwriter from Ireland and now residing in Sedona, had me absolutely mesmerized. Utterly charismatic with a 1000-watt smile and a voice that instantly embeds itself in the audience's hearts, he definitely owned that stage. You don't even have to be an Irish music connoisseur to immediately fall in love with his songs.
While he performs some popular Irish tunes, his original songs completely drew me in. Singing of heartbreak and lost love, he shares with his audience some personal pain; but, more importantly, the complete and total passion he has for his craft comes across loud and clear. Karl's soft, but unmistakable Irish lilt only adds to the aura of sadness, romance, and at times just plain cheekiness he portrays.
Karl Jones can be seen this Friday at the Celtic Crossings Pub from 6:30 until 9:30. You can also check their calendar for future performances. Find his CDs on Amazon as well as CD Baby. I also hope to see him at The Raven Café in the near future.
Saturday I was ready for the St. Patrick's Day shenanigans. Starting out on the patio at CoJoe's I danced to the lovely tunes of my favorite blues-icians, Road One South. From there I went to the Bird Cage for another dose of Karl Jones. At approximately 9 p.m. the power went out for most of downtown Prescott. Not to be deterred, the Road One South percussion section kept the party going with an extended drum session. At the Bird Cage, Jones jumped atop the bar and entertained with an acoustic set by the light of candles and cellphones. It was amazing.
I am just always overwhelmed with gratitude at the dedication our local musicians show time and again when, no matter what the circumstances, they rally and improvise and make things happen, all in order to never let their fans down. I absolutely love being surrounded by such wonderful people.
The lights came back on around midnight, just in time to illuminate the heavy snowfall transforming Prescott into a romantic Winter Wonderland. All in all it was a fantastic weekend and I'm glad that everybody seemed to be having so much fun.
This weekend will feature the party of all parties: a three-day event to celebrate Matt's Saloon's 50th anniversary. And what a musical lineup: Friday - 5 p.m. Latigo, 9 p.m. Western Bred. Saturday at noon will have a BBQ, followed with music by Western Fusion at 1:30 p.m., and Southbound for the rest of the night, starting at 8:30. Sunday brings a concert by national recording artists The Lost Trailers starting at 2:30 p.m. You all better be ready to party your socks off!
Also on Friday, Annie's Attic will showcase none other than Sir Harrison Band, featuring Jimmy Mack on bass and David Bedell on drums. They will start at 9 p.m. and they won't stop until complete exhaustion takes over (which generally happens around 1 a.m.).
So it'll be another very busy weekend in our little hamlet. Come see me, dance with me, say hi! Until then, ciao!