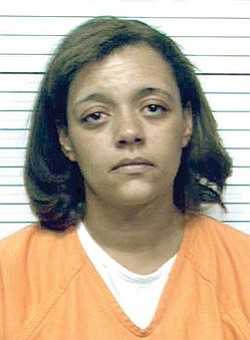 Originally Published: January 31, 2012 10:09 p.m.
PRESCOTT - Probation and/or prison time could be in store for former Elks Opera House Manager Dawn Castaneda, who pleaded guilty to theft on Tuesday.
The specifics of the sentencing are still to come on March 5, but Yavapai County Superior Court Judge Tina Ainley told Castaneda this week that the Class 4 felony theft carries a "presumptive" sentence of 2.5 years in prison, with a minimum of 1.5 years and a maximum of 3.75 years, and/or probation for as long as four years.
Given Castaneda's lack of a criminal record, Ainley said, "Probation would be appropriate."
Castaneda's guilty plea was part of a five-page agreement that prosecution and defense attorneys had prepared before the Tuesday morning hearing.
In response to Ainley's questions about the plea, Castaneda, 36, agreed that she had committed theft between Sept. 20 and Oct. 20, 2010.
"Did you take property from the City of Prescott?" Ainley asked.
Obviously emotional, Castaneda responded, "Yes." She also agreed that the items were valued at more than $3,000.
Although the plea agreement does not specify the items, the 2011 indictment listed $4,000 worth of items belonging to the City of Prescott, including an Apple Macbook, three iPods, a printer, a digital camera, six dresses, and tuxedo shoes.
Castaneda declined to comment afterward, but her attorney, Eric English, said the defense arrived at the plea agreement because the items were in Castaneda's possession.
"The bottom line was there was a factual basis there," English said after the hearing. "The property was in her possession, and although there was a question whether she was still a city employee at that time, (based on the factual basis), a jury could find her guilty."
Castaneda had earlier contended that the items were in her possession as a part of her duties as manager of the Elks Opera House. According to an October 2010 police report, Castaneda told officers she had planned to return the city items.
The city, on the other hand, maintained that Castaneda had already submitted her resignation at that time.
Castaneda resigned from the Elks managerial job in a Sept. 20 letter, claiming that the Elks had been a hostile workplace.
Soon afterward, the city began two investigations - one focusing on the internal allegations, and the other on criminal matters. The police department later got a warrant to search Castaneda's house, and arrested her on Oct. 13, 2010.
After Tuesday's hearing, Mohave County Prosecutor Jace Zack, who was filling for the Yavapai County Attorney's office, called the plea agreement "a good resolution" of the case. He added that City of Prescott officials agreed.
Prescott City Attorney Gary Kidd, while noting that the Mohave County department had kept his department informed about the plea agreement, declined to comment on its contents.
Although the agreement eliminated four of the counts that Castaneda had faced, it did not set a recommended penalty.
Zack said the sentence would be up to the discretion of the judge. Even though Ainley had referred to the appropriateness of probation, Zack said jail time is still an option.
The attorneys will submit pre-sentence reports prior to the March sentencing hearing.
As a part of the terms, the plea agreement also stipulates that Castaneda pay $4,000 in restitution of "economic loss to the victims."
Meanwhile, Castaneda also faces a misdemeanor shoplifting charge from a Dec. 22, 2011, incident. She was scheduled for an arraignment in Prescott Magistrate Court on the charge on Monday, but did not appear. A magistrate office spokesperson said Castaneda still could appear for an arraignment on that charge today.