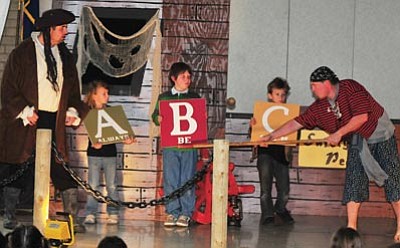 Originally Published: January 30, 2012 9:56 p.m.
When Smiley the Pirate told the Captain of the Safety Pearl what he would do if he saw smoke, the Lincoln School third- through fifth-graders roared with laughter.
"If there's an emergency you AFO - Always Freak Out," said Cottonwood Firefighter/EMT Ben Kramer, who played Smiley in the show.
Camp Verde Firefighter/Paramedic Daniel Elliot, who played the Captain, asked Smiley if he'd read the safety manual before it fell overboard the ship.
"I started, but I didn't get very far," Smiley said.
So, the captain had three volunteers from the audience teach, Smiley the ABCs of an emergency - to Always Be Calm. The Captain also showed Smiley when and how to call 911, as well as how to tell dispatchers who they are, what the emergency is, and where it is.
Madison Furse, like many of the fifth-graders, said they know what to do and when to call 911, but the play was a fun way to review it.
For the past 20 years, the Verde Valley Life and Fire Safety group has taught more than 5,000 students in the Verde Valley, Clarkdale and Sedona what to do in emergencies in a fun, interactive, and memorable way while sharing information that can save lives, said Camp Verde Firefighter/Paramedic Jon Gable.
"We know the kids enjoy what we do, and if they remember it in an emergency then it's all worthwhile," Gable said.
This week the group came to Prescott to share its entertaining message and to inspire firefighters, police officers, and paramedics on this side of the mountain to join them in spreading the word, said Prescott National Forest Fire Investigator Breynyn Lohmoelder. "We're hopeful they'll see this, want to get involved, and run with it."
Prescott Fire Investigator Kristi Gagnon, who attended the play on fire and life safety, said it was well done and entertaining.
"I like how they acted out and had all the voices," said Maizie McCabe, a fifth-grader at Lincoln School.
Gable said the group will be going to characterization camp soon to put together a new play, with new messages and roles that they will present in the spring.
Elliott said they are thankful their chiefs for giving them the time to train and put on the shows, especially during times like this when budgets are tight and things like this could be the first to get cut.
Kramer said they added a part on bullying to the show because they know many kids experience it.
After the pirate Gibbs, played by Gable, showed Smiley two ways out of a room, reminded him to never to go back into a burning building or ship, and to meet at an agreed upon place once you're out, he forced Smiley to walk the plank off the ship.
When Smiley got back on board, he turned to the parrot and asked him if he would talk to Gibbs too when he confronted him about being mean, making him feel bad and doing hurtful things. The parrot, played by Prescott National Forest Service Wildland Firefighter Anthony Montiel, said he would and did.
Chance Nixon, a fifth-grader, said how they worked out the bullying was important.
"I learned you should stand up to bullies," Brian Van Vorst, fifth-grader. "They tell us to stop, talk, and walk and tell an adult. I saw you can stand up on your own and with your friends too."