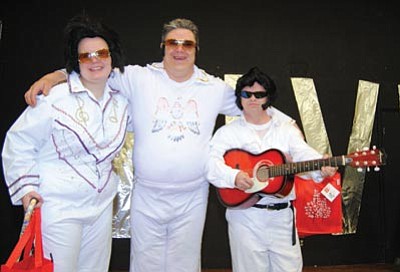 Originally Published: January 27, 2012 9:58 p.m.
About 20 members of the City of Prescott's Special Needs Activity Program took part in the Elvis Presley lookalike competition at a dance that honored the King of Rock 'n' Roll Jan. 21 at the Grace Sparkes Activity Center, said Kathy Lilley, SNAP coordinator.
More than 50 members of SNAP attended the dance, which was sponsored by Target Stores. Target provided prizes, helped decorate the event, and brought volunteers to make Elvis' favorite meal - peanut butter and banana sandwiches, chips, and dessert - for participants to enjoy, Lilley said.