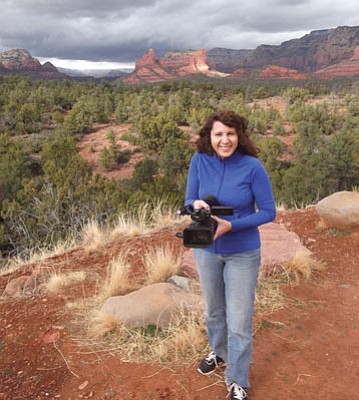 Originally Published: January 19, 2012 5:44 p.m.
SEDONA - Tara Golden is a scenery junkie. And she wants to take you along with her on a journey to Copper Canyon in Mexico, where she will make a documentary on the Tarahumara tribe, a people who bear the distinction of having avoided Spanish conquest by employing a skill they excel at to this day.
They ran away. And they've been running ever since.
"Why We Run" ("Porque Carremos") will be a film about a still primitive people, many of whom wear distinctive, bright clothing despite still living in cliff homes and caves in and near a canyon that is larger than the Grand Canyon.
Inspired by Christopher McDougal's book, "Born to Run," Golden went to Copper Canyon last year on a scouting expedition and plans to return for the start of an annual 50-mile footrace, the Caballo Blanco, which runs along the Rio Fuerte at the base of the canyon. The race attracts ultra-marathon runners from around the world and has sparked some controversy among runners who dispute the wisdom of the Tarahumara's tradition of running long distances in lightweight huarache sandals.
Golden is an experienced filmmaker who thrives on documentaries and survives on commercial work such as website videos and photography. Her travels have taken her to the Galapagos Islands, Europe and Latin America, where she finds the scenery and people that inhabit her work.
"These places become part of you," she said. "I'm not saying I'm going to give you the last word about the Tarahumara, but I do know I'll have a story."
She has a plan and a second camera operator on board, but has left herself a short timetable if she hopes to make her way to the canyon by the time the race takes place on March 4.
"There are people out there that want to help artists do their projects," she said. The problem is bringing the two sides together.
Enter Kickstarter, a fan-funding site that does just that. Since 2009, Kickstarter has linked patrons to artists in a new way, funding thousands of large and small projects through donations as small as one dollar.
Golden began the groundwork for her Kickstarter launch by creating a Facebook group that attracted almost 200 people. And in the first weekend after the launch, those supporters pledged nearly $2,000 toward her $17,000 goal.
Locally, the Kickstarter saga reflects both successes and shortfalls.
Prescott filmmaker Gail Steiger is a recent Kickstarter success story. His project, undertaken through the Western Folklife Center, intends to bring Hungarian herders to the United States to share tales, insights and techniques with their American counterparts. He has already been to Hungary to meet with the herders of the vast pustza (wetlands and plains), and has produced a video for the center on their ways.
The second phase of the project, bringing the Hungarians to the American West, promised to be expensive. Having established contacts and funding sources over his 20-plus years making films, Steiger looked to Kickstarter as a way to make the process more manageable.
"It's a handy way to organize your fundraising projects," Steiger said, "but you really have to mine your contacts. If you think you're just going to get on this website and money's going to fall from the sky, that's not going to happen."
Like Golden, Steiger began his fundraising effort on Facebook and prepared his cadre of supporters for the Kickstarter launch. That effort resulted in his project receiving pledges for more than $20,000 before his funding request expired.
Not every effort is successful. Sedona photographer Kelli Klymenko, who doubles as marketing and events coordinator at the Sedona Arts Center, launched a request for his ambitious Gods and Goddesses project on Kickstarter and, with less than two weeks to go, has achieved just 6 percent of his goal. He hopes to build elaborate sets and hire models for a photographic study of the 3,000-odd deities identified in world lore. But he doesn't blame Kickstarter for the shortfall.
"I've never really put enough effort into marketing myself," Klymenko said, speculating as well that a down economy may be limiting potential patrons' abilities to lend support.
And Gail Mangham of Prescott is experiencing a similar quandary in her quest to raise money for the 2010 Path Festival, which she had hoped to put on at the Elks Opera House but now believes will take its explorations on the theme of love to the 'Tis Gallery, upstairs from the Prescott landmark.
"It's not working for me but I don't blame Kickstarter," said Mangham, who has so far achieved just 3 percent of her requested funding goal. "I just don't think I've been aggressive enough."
In Golden's mind, Kickstarter has given artists a new option in the artist's ongoing quest for support.
"It's kind of like a whole new playing field," she said. "But if you're an independent filmmaker and you don't like asking people for money, you're in the wrong business."
Steiger agrees, and sees new possibilities for outreach.
"There's been such a revolution," he said. "You can reach the whole world just by clicking around."
To find Golden's project, go to Kickstarter.com and search for Tarahumara. For Mangham's project, search Prescott, and search Sedona for Klymenko's endeavor.